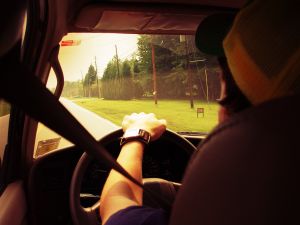 Each year, car accidents account for one out of every three teen fatalities. The Centers for Disease Control and Prevention (CDC) reports that novice drivers (from age 16 to 19) are four times more likely to crash than older drivers. Pediatrician Dr. Rima Himelstein examined the key factors that contribute to teen crashes, and found several common denominators - what she termed the "eight danger zones of teen driving."
1. Driver inexperience
Simple lack of experience is a contributing factor in numerous accidents involving teen drivers. Because they've spent less time behind the wheel, teens are less prepared to deal with the numerous unexpected situations that can present themselves on the road. Since crash risks are especially high during a teen's first year of driving, safety advocates recommend that teen drivers receive extensive supervised practice during that time. Teens need to gain experience driving at different times of day, in different kinds of weather, on different kinds of roads.
2. Driving with teen passengers
Research has shown that passengers can be an particularly dangerous distraction for teen drivers, especially when those passengers are also teens. A study conducted by AAA's Foundation for Traffic Safety found that the risk of a fatal crash increases by 44% when a 16 or 17 year-old has just one teen passenger. With two teen passengers, the risk is doubled; with three or more, the risk is quadrupled. Missouri's graduated driver license (GDL) law places restrictions on the amount of passengers a teen driver can carry, but safety advocates urge parents to establish rules that reinforce those restrictions.
3. Driving after dark
Nighttime driving comes with its own set of challenges. In 2009, 61% of teen traffic fatalities occurred between the hours of 6:00 p.m. and 6:00 a.m. Furthermore, a 2010 study from the Texas Transportation Institute found that "it is the nighttime risk that ranks at the top of the list for the youngest motorists on the road, primarily due to a combination of the visibility challenges caused by dark conditions, slower response time brought about by fatigue, and a lack of experience driving under such conditions." Here again, GDL laws restrict nighttime driving in novice drivers, but parents will want to monitor their teens and ensure they receive ample supervised practice.
4. Driving without seatbelts
While teen seatbelt use has increased significantly in recent years, teens are still much less likely to buckle up than older drivers are. According to the National Highway Traffic Safety Administration (NHTSA), "in 2009 the majority (56%) of young people 16 to 20 years old involved in fatal crashes were unbuckled."
5. Driving while distracted
In today's world, distracted driving is the number one killer of American teenagers. In the CDC's 2011 National Youth Risk Behavior Survey, 1 out of 3 teen drivers admitted to sending a text or email while driving within the past month. Missouri law prohibits texting in drivers 21 and younger, but parents should establish a zero tolerance policy at home. In addition, parents are urged to set an example for their teens and refrain from using their phones while driving.