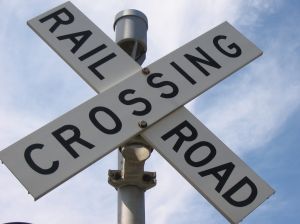 Unfortunately, train accidents are not uncommon in Missouri. In 2012, our state ranked 7th on Operation Lifesaver's list, "Highway-Rail Grade Crossing Fatalities - Top 15 States." And it's true that these accidents can have life-threatening consequences, as our Joplin personal injury lawyers know all too well.
Last week, a Pennsylvania woman was killed and several other people were injured when a small bus reportedly stopped on the train tracks at a railroad crossing. According to WPXI-TV, the bus was carrying ten adult passengers to a program for senior citizens and people with developmental disabilities. The train's engineer told police that he sounded the horn several times when he saw the vehicle on the tracks, but the bus didn't move. Ultimately, the train struck the bus, causing it to spin around and come to rest about 20 feet south of the crossing.
One passenger, 91 year-old Claudette Lee Miller, died as a result of blunt force trauma. Several others were taken from the scene by helicopter or ambulance, some with serious injuries. A physician at the hospital that treated several victims discussed their prognosis with WTAE-TV. "Any time you say 'vs. train,' that's a significant amount of energy that's transferred from one vehicle to another, and unfortunately to the passengers contained in those vehicles," said Dr. Allan Philp. "We really just saw the spectrum -- brain injuries, facial injuries, chest injuries, abdomen and pelvis injuries, long bone injuries, meaning legs, arms, that sort of thing. At least one of the patients -- the more critically ill -- seems to have been thrown."
Investigators are still working to determine what caused the bus driver, 59 year-old Frank Schaffner, to stop on the tracks, but they believe heavy fog in the area may have been a contributing factor - the crossing where the accident occurred is not equipped with gates or lights. Police have also tested Schaffner's blood for alcohol and drugs, and they plan to send the train's black box recorder to the Federal Railroad Administration (FRA) for analysis.
UPDATE, May 7: Another passenger on the bus, 88 year-old John Burkett, has died of injuries he sustained in the crash. In addition, Schaffner has been formally charged with multiple criminal offenses connected to the crash, including homicide by vehicle, involuntary manslaughter and reckless driving.
There are more than 210,000 railroad crossings throughout the U.S. (including 129,644 that intersect with public roadways) according to the Angels on Track Foundation. In 2012, 1,960 accidents occurred at these crossings, killing 235 people and injuring more than 900. And Operation Lifesaver reports that drivers are almost 20 times more likely to die in an accident involving a train than in an accident involving another motor vehicle. To learn more about railroad crossing safety, click here to find some helpful tips and info.
At Aaron Sachs & Associates, P.C., our personal injury lawyers serve auto accident victims in Joplin, Missouri and the surrounding areas, including Carthage, Webb City, Sarcoxie, Carl Junction, Neosho, Diamond, Granby, Fairview and Seneca. If you've been injured in a collision involving a train or other large commercial vehicle, you may be entitled to compensation for your damages and losses, depending on the circumstances surrounding your accident. Contact our office today to find out if we can help: call us toll-free at 1-888-777-AUTO, or click here to submit our convenient online form.
Attorney meetings by appointment only