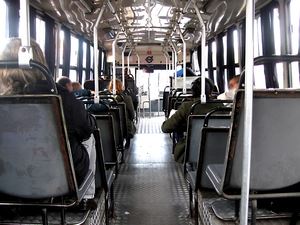 Our Joplin personal injury lawyers know all too well just how dangerous bus accidents can be. In recent months, a series of tour bus accidents have resulted in numerous passenger deaths nationwide. In August, In October, a Megabus bound for Missouri struck a concrete bridge support on Interstate 55 in Illinois, injuring nearly four dozen passengers and killing one woman - a Mizzou student en route to Columbia. And in October, another tour bus crashed in Arizona, leaving the driver dead and several passengers injured.
Then, on December 30, a tour bus plowed through a guardrail on an icy Oregon highway and plunged down a 200 foot ravine, killing nine people and injuring 39 others. The bus company, Canada-based Mi Joo Tour & Travel, has since been under investigation by the Federal Motor Carrier Safety Administration (FMCSA), the National Transportation Board (NTSB), and Canada's Ministry of Transportation. Officials have indicated that the investigation could take several weeks to complete, but here are some of the preliminary findings:
• The bus company has a record of safety violations. In 2010, Mi Joo Tour & Travel received 11 federal citations for 11 serious violations, and the company was also cited for eight serious violations in 2011. The violations included failing to incorporate alcohol and drug testing programs for drivers; failing to perform required background checks on drivers; and failure to perform regular inspections on their buses' emergency features.
• At the time of the crash, the bus driver had been on duty far longer than the maximum allowed by federal law. According to a FMCSA news release, "Mi Joo Tour & Travel failed to take basic measures to ensure that its drivers are properly rested for safe vehicle operations and has established a pattern and practice of scheduling and dispatching drivers on trips without regard to hours of service requirements." The company has since been ordered out of service by both the U.S. Department of Transportation and the Canadian Ministry of Transportation.
• In a statement, the attorney representing Mi Joo Tours said "black ice was a significant factor" leading up to the fatal accident. The accident also occurred on a stretch of highway which is known to be treacherous in snowy or icy conditions.
The investigation continues, and we don't yet know what other factors may have been involved. At present, however, it appears that a combination of poor roadway conditions and driver fatigue may have contributed to the wreck. In particular, the latter has been a focus for safety officials in recent years. "Look at a lot of the major bus crashes in the last couple of years and you'll see that fatigue--or too many hours behind the wheel--has contributed to most of those crashes," Stephen A. Keppler, executive director of the Commercial Vehicle Safety Alliance, told the Wall Street Journal.
As you can see, under certain circumstances, bus accidents can be catastrophic. These accidents can also be extremely complicated from a legal perspective, given the number of parties involved. In many cases, it's wise for injury victims to seek legal advice to ensure their rights and interests are protected.

The attorneys at Aaron Sachs & Associates, P.C. represent bus accident victims in Joplin, Missouri, and throughout the surrounding areas, including Lamar, Pierce City, Neosho, Diamond, Nevada, Carthage, Webb City and Sarcoxie. If you or a loved one has been injured in a crash caused by another driver's negligence, we may be able to assist you. Please contact our office toll-free at 1-888-777-AUTO (or visit our website) to schedule an appointment for a free initial consultation, where you can discuss your case with an experienced personal injury lawyer. We're available 24/7/365 for your convenience. It won't cost you anything to find out if we can help.
Attorney meetings by appointment only