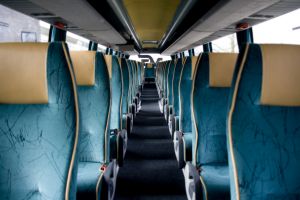 As our Springfield truck accident lawyers know all too well, many collisions are 100% preventable, and yet they happen anyway. Sadly, it's often a driver's error or negligence that leads to accidents resulting in injury. And when a driver is operating a large commercial vehicle like a bus, even more lives are at stake.
This week, a bus driver was sentenced to six years in prison for causing a fatal bus crash near Richmond, Virginia in May 2011. According to The Free Lance-Star, 38 year-old Kin Yiu Cheung's bus was en route to New York from Greensboro, North Carolina when Cheung fell asleep at the wheel. The bus ran off the road, struck an embankment and overturned. Of the 58 people on board, four were killed and more than 25 were injured. After the crash, Cheung admitted to authorities that he'd fallen asleep. He was treated for minor injuries at the scene and then arrested for reckless driving. Surviving passengers reported that Cheung had been driving erratically, swerving and changing speeds, for about an hour before he ran off the road.
Investigators later discovered that Cheung's employer, Sky Express, had been cited by the Federal Motor Carrier Safety Administration (FMCSA) multiple times in recent years, including 46 citations for driver fatigue and 17 citations for unsafe driving. Following a 13-month investigation, the National Transportation Safety Board (NTSB) determined that the crash was caused partially by Cheung's "acute sleep loss" and partially by inadequate oversight on the part of Sky Express and the government. "This crash never should have happened," said NTSB Chairman Deborah A.P. Hersman. "It was entirely preventable. Those travelers were failed at three levels: by the driver, the operator and the regulator."
Ultimately, Cheung was convicted of four counts of involuntary manslaughter. He was sentenced to 40 years in prison (10 years for each count) with 34 years suspended. "This wasn't an issue of chance. This was an issue of choice," said Judge Joseph Ellis at Cheung's sentencing hearing.
The crash brought national media attention to a growing safety problem in the bus industry: carriers like Sky Express, which operate using inexpensive buses and offer extremely cheap rates. Sky Express was shut down after the accident, and in June 2012, FMCSA officials shut down 26 similar bus operators in "the largest single safety crackdown in the agency's history." All 26 operators reportedly had "multiple safety violations, including a continuous pattern of using drivers without valid commercial driver's licenses (CDLs) and failure to have alcohol and drug testing programs."

At Aaron Sachs & Associates, P.C., our personal injury lawyers represent semi-truck accident victims throughout the state of Missouri. If you or a loved one has been injured in a collision involving a semi-truck and you'd like to discuss your legal rights with an attorney, please contact us today. We offer a free initial consultation: there is no cost and no obligation for the appointment. You can reach us by calling 1-888-777-AUTO, or by visiting our website. Offices in Springfield, Joplin, Columbia, Cape Girardeau and Kansas City.
Attorney meetings by appointment only