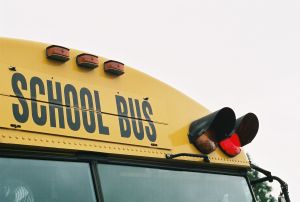 Our Kansas City auto accident lawyers know that personal injury claims connected to bus crashes can be extremely complicated. Because buses are often owned by companies, cities, counties or school districts, there can be numerous parties involved in the aftermath of an accident - and such accidents can have devastating consequences. For example, school buses are designed to provide enhanced occupant protection in the event of a crash, but because these vehicles are so large and heavy, they can cause extensive damage when they strike pedestrians, bicyclists, and smaller passenger vehicles.
This week, a Chicago-area school bus caused multiple injuries when it struck nine cars within a half mile after the driver reportedly experienced a medical emergency. According to CBS Chicago, the 77 year-old bus driver suffered an unspecified "medical condition" immediately prior to driving the school bus directly into oncoming traffic on Oakton Street in Park Ridge. The bus apparently struck several vehicles before knocking one vehicle into a nearby house and then hitting a taxicab head-on.
At least five motorists were injured in the series of accidents, which one police officer described as "a scene out of an Arnold Schwarzenegger movie." Luckily, at the time of the incident, no students were on the bus, which was en route to a Des Plaines school. If the accident had happened a half-hour later, authorities say at least 40 to 50 students would have been on board. In another stroke of good fortune, no one was at home when the bus pushed a vehicle into a residence just off Oakton Street.
When the taxi driver tried to speak with the driver after the final head-on collision, the woman was reportedly incoherent. "She was out of it when she got here," taxi driver Dimitri Coffey told CBS. "She thought she was still driving and she was (asking), 'Where am I?' and 'What happened?' and she didn't even know what had gone on." The bus driver was cited for driving in the wrong lane, failing to obey traffic signals, and driving too fast for conditions. Prior to this incident, she had a spotless driving record and no medical conditions previously reported.
Sadly, federal research suggests that driver-related factors are a prevalent cause of bus accidents resulting in injury. The Federal Motor Carrier Safety Administration (FMCSA) reports that approximately 63,000 U.S. buses are involved in auto accidents every year, including 325 accidents resulting in fatal injury and 14,000 accidents resulting in non-fatal injury. Of school bus accidents caused by driver error, the most common contributing factors are failure to yield, driver inattention, and speed. There are a number of other factors that commonly contribute to bus accidents caused by driver error, including impairment, fatigue and poor training.

Aaron Sachs & Associates, P.C. is a Missouri personal injury law firm serving auto accident victims throughout the Kansas City area. If you or a loved one has been injured in a bus crash in Independence, Liberty, Lee's Summit, Blue Springs, Liberty, Excelsior Springs, or Gladstone, please contact our office to find out if we can help. To schedule an appointment for a free initial consultation, please call our office toll-free at 1-855-695-1426. You can also visit our website to learn more about our firm, hear from our clients, or contact us online.
Attorney meetings by appointment only