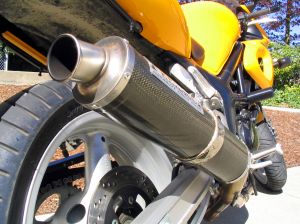 As Kansas City auto accident lawyers, we know that Missouri motorcyclists are extremely vulnerable to serious, life-threatening injuries when they are involved in collisions with passenger vehicles. Since riders don't have the protection of an enclosed vehicle, they frequently suffer from head injuries, broken and fractured bones, and serious skin damage (also known as road rash) when these accidents occur. Unfortunately, many Missouri motorcycle accidents occur when a larger vehicle attempts to turn left in front of an oncoming rider - often because the other driver simply doesn't see the motorcycle until it's too late.
Recently, a New York motorcyclist was killed and his passenger suffered extensive injuries when their 2004 Suzuki struck a sedan that turned left in front of them. According to The Batavian, the occupants of the Suzuki were both ejected from their motorcycle when it struck the left-turning sedan on its passenger side. Authorities say 19 year-old Derek Sheldon was pronounced dead at the scene, while his passenger, 19 year-old Ashley Stillwell, was life-flighted to a nearby hospital, where she is listed in critical condition. The sedan's driver was uninjured in the crash, and the accident remains under investigation.
Sadly, motorcycle accidents like this one are not uncommon: in fact, they're on the rise [link to]. Consider these statistics:
• According to the National Highway Transportation Safety Administration (NHTSA), people are 37 times more likely to die in motorcycle accidents than in other kinds of vehicle crashes.
• A 2012 study by the Centers for Disease Control and Prevention (CDC) revealed that there has been a 55% death rate increase in motorcycle fatalities since 2000.
• In 2010, 4,502 people were killed in motorcycle accidents nationwide.
In recent years, the population of motorcyclists has increased dramatically on roadways throughout the country. The Motorcycle Industry Council data has seen a drastic jump in the number of motorcycles registered in comparison to previous years. Many analysts believe that the economy factors in to this increase, with motorcycles offering motorists a less expensive mode of transportation.
More bikes on the road, however, can mean more crashes. Motorcycle accidents commonly result in injuries and fatalities, especially when they involve other passenger vehicles like cars and truck. Because of the way motorcycles are designed, riders are more exposed to the elements and therefore more vulnerable to serious injury.
Also, a motorcycle's size often factors in to passenger vehicle collisions. Since they are considerably smaller than other vehicles, motorcycles can be less visible to drivers of passenger cars and trucks. To avoid crashes like the one in New York, riders need to take certain steps to ensure they are seen by other motorists.
Be Safe, Be Seen: Tips for Motorcyclists
• Never assume another driver sees you.
• Give yourself plenty of space, particularly in front of the bike, in case you need to perform an unexpected maneuver.
• Do not linger in other vehicles' blind spots, especially large trucks. When you're on a motorcycle, passing other vehicles can be extremely hazardous: never pass unless you can confirm it's safe.
• Wear safety gear that is brightly colored or equipped with reflectors. Some new motorcycle gear is even treated with a reflective finish that can only be seen at night.
• Use hand signals in addition to turn signals.
• Don't hesitate to use your horn if you suspect a driver doesn't see you.
Drivers of cars and trucks can also do their part to keep our roadways safe: learn more about sharing the road with motorcycles by visiting Drive-Safely.net.
The motorcycle accident attorneys at Aaron Sachs & Associates, P.C. represent injury victims throughout the state of Missouri. We serve clients in Kansas City, Lee's Summit, Liberty, Independence, Blue Springs and the surrounding areas. Our firm also offers a no-cost, no-pressure consultation to discuss your case. 
Attorney meetings by appointment only