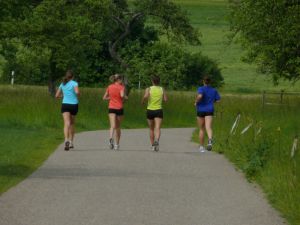 Here at Aaron Sachs & Associates, P.C., we're proud to be the presenting sponsor of the Cherish Kids 5K/10K, which will be held this Saturday, August 24, at James River Assembly's South Campus in Ozark (at Highway 65 and CC). We'll be there handing out cold water to event participants, and we hope you'll come and join us for what promises to be a fun event - and 100% of all proceeds will go to a great cause.
Want to register for the Cherish Kids 5K/10K? Click here!
Cherish Kids 5K/10K: Event details
• 7:30 - 10:30 a.m.: Cherish Kids Family Fun! This year's event features a number of fun activities for the whole family, including bounce houses, games, face painting, great giveaways, a silent auction and a hot air balloon launch. Special guests Sara and Ethan Forhetz will also be in attendance.
• 7:30 a.m.: Start time for the 5k/10K! Participants will receive a race T-shirt and bag and free snacks - and they'll also be eligible for over $3000 in prizes. Water stations will also be positioned along this year's flatter, faster course.
• 8:30 a.m.: Start time for the "Kids K" portion of the event! The Kids K is a 0.6 mile race for participants age 12 and under (and all participants 12 and younger will receive a medal, whether they run the 5K/10K or the Kids K).
• 9:00 a.m.: Award Ceremony! The ceremony will feature OMRR Triple Crown Event Awards; Overall 1st, 2nd and 3rd Place Awards (for men and women); Masters 1st, 2nd and 3rd Place Awards (for men and women); 1st Place Awards in each five-year age group (including 10 and under and 75 and older); and Overall Kids K Boy and Girl Trophies.
Want more information about the Cherish Kids 5K/10K? Click here!
About Cherish Kids
• Founded in 2009 by Debbie Lindell, Cherish Kids works tirelessly to find homes for the nearly 2,000 orphans throughout the state of Missouri. Their mission is three-fold: to raise awareness about the needs of children in crisis, both locally and worldwide; to offer resources to people who want to help these children; and to provide support by helping meet these children's various needs and offering financial, emotional and spiritual support to families who wish to foster or adopt.
• The organization's efforts include supplying gift cards to children to purchase clothing when they are suddenly placed in foster care; providing summer camp scholarships to foster children; and hosting special events to encourage and support foster children.