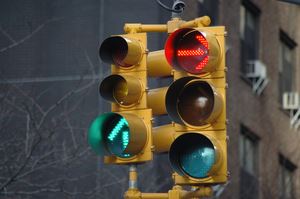 On Monday, a woman was killed and five others were injured - including two children - when a tractor trailer slammed into an SUV on U.S. 40 in Kansas City.
It happened around 2:00 p.m. According to the Kansas City Star, a semi-truck was traveling west on Highway 40 when it attempted to turn left onto Interstate 70. The truck struck an eastbound Suburban that was passing through the intersection, forcing the SUV to collide with a third eastbound vehicle.
The driver of the Suburban was transported from the scene by ambulance, but she later died as a result of her injuries. She has since been identified as 54 year-old Karen House-Long. Four other occupants of the SUV were also taken by ambulance, including a three year-old, a four year-old, a five year-old and another adult. The five-year old suffered the most serious injuries: he was initially listed in critical condition, but he is now expected to recover. The driver of the third vehicle was also hospitalized, but the semi-truck driver was not hurt.
Police continue to investigate the collision. They say there is no evidence to suggest House-Long was speeding, and according to KCTV 5, it appears that she had the right of way in the intersection when the truck turned in front of her.
In 2010, 3,413 people died in collisions involving large trucks, reports the Insurance Institute for Highway Safety (IIHS). Truck occupants only account for 14% of those fatalities: 72% were occupants of cars and other passenger vehicles, and 13% were pedestrians, bicyclists or motorcyclists. And 56% of truckers who died in 2010 multiple-vehicle crashes were involved in collisions with other semi-trucks.

Sharing the road with semi-trucks: Basic safety tips for drivers
• Be attentive. Remember that semi-trucks handle differently than passenger cars and trucks. Big rigs can weigh as much as 20 to 30 times as much as these smaller vehicles - and as a result, they can take 20 to 40% farther to stop. Semis also make wide turns, and they are often slow to maneuver.
• Be visible. In particular, avoid lingering in a big truck's blind spot. About a third of collisions involving big trucks and passenger vehicle happen in the trucks' blind spot. Remember that old rule of thumb: if you can't see a big truck's mirrors, then its driver can't see you. Also, be sure to allow plenty of distance between your vehicle and a big truck: safety advocates recommend at least four to six seconds of space when you're traveling at highway speeds or in inclement weather.
• Be cautious. Because semi-trucks are so large and heavy, they often can't react quickly to sudden situations and obstacles. For example, many fatal collisions involving semis and passenger vehicles happen when a smaller vehicle cuts off or pulls out in front of a semi. Don't risk a maneuver that will force a big truck to stop or suddenly change lanes - such maneuvers are often deadly.
At Aaron Sachs & Associates, P.C., our personal injury lawyers represent the victims of Missouri trucking accidents. To contact us, please call 1-888-777-AUTO, or visit our website. Offices in Springfield, Joplin, Columbia, Cape Girardeau and Kansas City.
Attorney meetings by appointment only