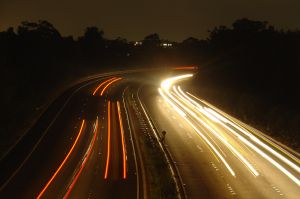 On Saturday, a 41 year-old father of six was killed when he was struck by a hit and run driver on Interstate 35. The Kansas City Star reports that Christopher Randolph Sr. was hit around 2:30 a.m. as he was putting gas in his minivan, which had broken down in a construction zone north of College Boulevard.
The incident also injured 39 year-old Charlesetta Redd, Randolph's girlfriend, who was standing on the roadway shoulder with Randolph. Redd reportedly climbed under the minivan, trying to reach Randolph and pull him to safety. She sustained burns to her legs from the exhaust.
After the initial impact, Randolph was struck by several vehicles in succession, the last of which drug him down the highway. He was pronounced dead at the scene. However, the driver of the first vehicle - a 2010 Chevy Silverado - left the scene. Troopers with the Kansas Highway Patrol discovered the truck, heavily damaged on its front end, approximately one mile away from the site of the collision. The driver had apparently fled on foot.
Following a search, Kansas law enforcement officials located the driver on Sunday night and took him into custody. On Monday, Johnson County prosecutors formally charged 25 year-old Brock Tyler James with a felony count of leaving the scene of an accident resulting in death. James appeared in court later the same day, and his bond was set at $50,000. Prosecutors say James had two outstanding warrants at the time of the accident.
The accident was the second pedestrian fatality to occur in a Kansas City-area construction zone in recent weeks. On September 21 at around 3:00 a.m., a Missouri Department of Transportation (MoDOT) worker was killed while assisting with an accident scene in a work zone on Interstate 70. The driver, 35 year-old David Murdick, reportedly drove through cones and barriers and struck 50 year-old Clifton Scott, a 15 year-old MoDOT veteran. Scott was pronounced dead at the scene. Murdick, who was also injured in the collision, has since been charged with first-degree involuntary manslaughter. Police say Murdick was under the influence of alcohol when the accident occurred: his blood alcohol content was found to be more than twice the legal limit.

Hit and run collisions: A few facts and statistics
• According to the AAA Foundation for Traffic Safety, about 1,500 Americans are killed every year in hit and run collisions. Pedestrians account for about 60% of those fatalities: one out of every five pedestrian deaths involves a hit and run driver.
• Hit and run accidents are most likely to occur during the nighttime hours and on the weekends: AAA data reveals that 58% of fatal hit and run crashes happen on Friday, Saturday or Sunday; and about 47% of fatal hit and run crashes happen between 9:00 a.m. and 3:00 a.m.
• In Missouri, leaving the scene of an accident becomes a class D felony if the collision causes physical injury to another party; if it causes property damage above $1,000; or if the driver has previously been convicted of leaving the scene.
At Aaron Sachs & Associates, P.C., our personal injury lawyers serve clients in Kansas City, Missouri, and throughout the surrounding areas. To contact our office, call 1-888-777-AUTO, or visit our website.
Attorney meetings by appointment only