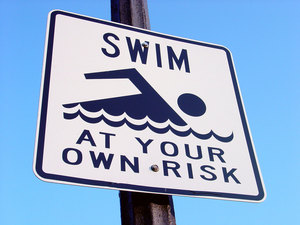 As the temperature rises in Columbia during the summer, so does the need to cool off. Now that Memorial Day has come and gone, thousands of Missouri residents will hop in their pools or head to our state's lakes or rivers to seek relief from the heat over the next few months. Our Missouri personal injury lawyers want to remind you about the importance of water safety in the summertime: accidents that occur in swimming pools, open water areas, lakes, and rivers can cause serious, even fatal injuries.
According to the CDC, approximately 10 people die every day from drowning, and two of these are children under the age of 14. More than half of drowning victims treated in emergency departments require hospitalization or transfer for more intensive care. Nonfatal drownings often result in brain damage that can lead to long-term disabilities including memory problems, learning disabilities, and permanent loss of function.
The average drowning victim is "a 40 year-old man who overestimates his athletic ability, usually on a river," reports Missouri's Water Patrol Division, following an assessment of last summer's drowning statistics. "People have a little too much to drink and the sun is beating on them, so they decide to go across the river, to swim across the river," said Sergeant Al Nothum. "They get halfway across and they realize they're too tired. They start coming back and they don't have it in them to finish." Having too much to drink and failing to wear a life jacket are common contributing factors to drowning accidents: for this reason, the Patrol is planning sobriety checkpoints on Lake of the Ozarks throughout the month of June.
Beyond drowning injuries, other injuries suffered around lakes, rivers and swimming pools include lacerations, contusions, concussions, and broken bones. Most of these accidents are preventable, with care and common sense.

Here are a few water safety tips, courtesy of the Red Cross:
• Only swim in designated areas.
• Supervision is essential. Always take care to note the presence of a lifeguard or other person trained to watch the water and step in when an accident occurs. Kids and adults alike should employ the buddy system and take care to watch out for each other around the water: no one should swim alone.
• Wear a life jacket - especially when you're on the lake. In 2011, about 70% of those who died in boating accidents drowned - and 84% failed to wear life jackets. Children and adults who aren't strong swimmers should wear jackets around the pool as well.
• Keep an eye out for what the Red Cross calls the "dangerous too" signs: too tired, too much sun, too little hydration, and too far from safety.
• Property owners should use barriers and four-sided fencing to prevent children from gaining unsupervised access to pool areas. Further, property owners should take care to maintain concrete areas around pools, taking care to correct cracked or uneven walkways.
• Adults and teenagers should avoid alcohol use, which affects balance, motor and cognitive skills, and can reduce reaction time. Its effects are increased by the heat and compounded by dehydration and sun exposure. Alcohol use is a major contributor to otherwise preventable accidents and injuries, especially in boating accidents.
Aaron Sachs & Associates, P.C. is a Missouri personal injury law firm with more than 50 years of combined Missouri legal experience. We offer a free initial consultation, and we represent clients in Columbia and the surrounding areas, including Jefferson City, Kirksville, Fulton, Moberly, and Osage Beach. To schedule an appointment, call us toll-free at 1-888-777-AUTO, or visit our website.
Attorney meetings by appointment only