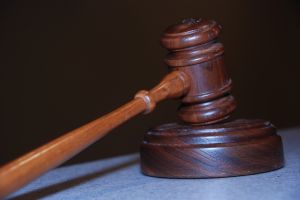 This afternoon, the jury in the campaign finance trial of former presidential candidate John Edwards indicated that it had reached a verdict. However, they returned to court with a unanimous verdict on count three, only one of the six felony charges against Edwards. Within the hour, the jury announced that it was deadlocked on the remaining charges, and the case was officially declared a mistrial.
U.S. District Judge Catherine C. Eagles was understandably confused when the jurors revealed their position earlier today. "I was obviously under the impression you had reached a verdict on all six counts," Judge Eagles said in court, according to CBS News. She then instructed the jury to continue deliberating on the remaining counts without revealing the jury's decision on the third felony charge. The Hill's Blog Briefing Room reported that Edwards' defense team immediately lobbied for a mistrial, but Judge Eagles insisted the jury continue deliberating.
About 45 minutes later, the jury returned to court again and announced that it had acquitted Edwards on count three, which charged him with accepting and receiving illegal campaign contributions from heiress Rachel "Bunny" Mellon. However, it was not able to reach a unanimous decision on the other five charges, prompting Judge Eagles to officially declare a mistrial.
Edwards had pleaded not guilty to the six felony charges against him, which included four counts of receiving illegal campaign contributions, one count of conspiracy, and one count of making false statements. The charges are connected to approximately $925,000 in payments he received from two campaign donors, Mellon and Fred Baron, which were allegedly used to hide his affair - and his child -with Rielle Hunter, who was a videographer for his 2008 presidential campaign.
The jury, comprised of eight men and four women, was tasked with deciding if Edwards "knowingly and willfully" violated campaign finance laws by using the funds to cover up his relationship with Hunter. The defense argued that Edwards had committed many "moral wrongs," but that his behavior was not illegal. His attorneys maintained the funds were not campaign contributions, but gifts given to help him hide the affair from his wife, Elizabeth Edwards, who was terminally ill with breast cancer. Elizabeth died in December 2010.