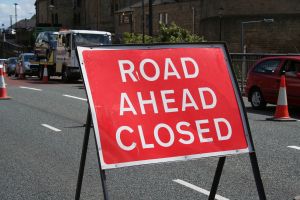 Over the weekend, a serious head-on collision in west Springfield killed two motorcyclists and injured four other motorists. Ultimately, the wreck involved a van, an SUV, a pickup truck, and three motorcycles, and its aftermath necessitated the closing of a busy section of roadway for most of the day on Saturday.
The accident happened around 1:15 p.m in the 1100 block of West Bypass, near the intersection at Grand Avenue. According to the Springfield Police Department's press release regarding the incident, a Nissan Quest van and a Chevrolet Suburban were traveling north on West Bypass when they collided. The impact knocked the Suburban across the median into southbound traffic, where it struck a Harley Davidson Ultra Classic motorcycle head-on.
The SUV then rotated, and it was subsequently hit by a southbound Toyota Tundra pickup truck. Two Triumph motorcycles traveling behind the truck tried to avoid the collision, but both ultimately crashed into the pickup.
The occupants of the Harley were ejected from the bike and pronounced dead at the scene. As of Monday morning, law enforcement officials had not yet released their names as they continued working to positively identify the victims and notify their next of kin.
Four others involved in the crash - occupants of the Suburban and the two Triumphs - were transported to local hospitals by ambulance. None of their injuries are believed to be life threatening. The woman driving the van and her passengers - two children - were uninjured. Police say it appears all of the motorcyclists involved in the crash were wearing proper helmets.
Thus far, police have declined to comment as to which driver was at fault: the cause of the initial collision between the SUV and the van is still unknown, according to Sergeant Tom Luellen of the Springfield Police Department. The issue is a central focus of the investigation. "That's going to take a long time to determine, we're going to have to look at these various pieces of evidence, whether it's marks on the road or injuries to people or other things and it's going to take a long time for us to piece that back together," Sgt. Luellen said.