Our Missouri truck accident lawyers have written at length about the catastrophic injuries that can occur when passenger vehicles collide with big rigs. Semi-trucks are especially dangerous when accidents occur: because of their size and weight, passenger vehicles are often simply no match for them. The results are, more often than not, serious injuries and fatalities.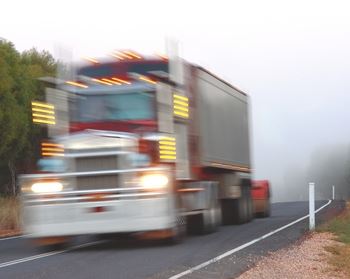 This week, an Ohio town is grieving the loss of 2 high school girls in just such an accident. On Thursday afternoon, 17 year-old Miranda Lane was traveling east on Ohio Highway 73 when she approached the intersection at U.S. 127. According to police, Lane failed to yield the right of way at that intersection and subsequently collided with an oncoming tractor-trailer. Lane and her passenger - 16 year-old Mathilde Jessen, an exchange student from Denmark - were both wearing seatbelts, but they sustained critical internal injuries in the crash. Both girls were pronounced dead at the scene.
The driver of the truck was uninjured. In addition, the accident caused a third vehicle - a pickup truck -to be struck: the impact caused it to flip over. That driver, 61 year-old Edward Schatzle, was taken to a local hospital by medical helicopter.
According to WRKC in Cincinnati, several people who witnessed the accident said the collision happened so fast that there was no way the truck driver could have avoided hitting Lane's car. Meanwhile, the Dayton Daily News interviewed a driver who lives near the intersection and knows it's a dangerous spot. Jason Robinson said he didn't see the accident, but that he went to the scene upon hearing the sirens. "It's a bad accident all around," Robinson said. "There is a long history of accidents at this intersection. It's needless. Pointless."

Indeed. Lane was traveling to her prom date's home in nearby Oxford, Ohio: she needed to pick up a permission slip to allow her to attend the dance at nearby Talawanda High School. She had just gotten her dress. Jessen, Lane's classmate and friend, was simply riding along to keep Lane company.
Since Jessen was an exchange student, her body must stay in the U.S. for approximately 2 weeks - until officials from the U.S. Embassy in New York and the Swedish Embassy in Denmark can travel to Ohio to positively identify her. Elaine Schumacher, mother of Jessen's host family, says Jessen was happily adjusting to American life. It fell to Schumacher to notify Jessen's family about their daughter's death, reports Cincinnati.com.
"They are beside themselves, but she did tell me she didn't think Mathilde could have been in any better place in America than where she was," Schumacher said. "She knew she was getting the experience of a lifetime and was thrilled for her daughter." Jessen's family is currently en route to Ohio.
Meanwhile, Lane's family is shocked by the loss. "I can't believe this happened," said Donna Henderson, Lane's aunt. "It is like a bad dream and I am going to wake up and see her face here."
The personal injury attorneys at Aaron Sachs & Associates, P.C. represent the victims of truck accidents in central and southern Missouri. For your convenience, we have 5 offices throughout the state: Springfield, Joplin, Columbia, Cape Girardeau and Kansas City. To schedule an appointment for a free initial consultation, please contact us toll-free at 1-888-777-AUTO. Alternatively, you can visit our website to learn more about us, and to submit our easy-to-use "Do I Have a Case?" form.
Attorney meetings by appointment only