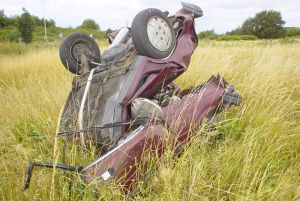 We've all seen movies that depict dramatic car chases. These exciting scenes often end with at least one car crashing, flipping end over end...and then the driver gets out of the completely totaled vehicle and walks away. Most people understand that these scenes are generally unrealistic. After all, they're carefully staged and rehearsed, with an experienced stunt driver behind the wheel: the conditions that cause the accident are purposefully created and carefully controlled. Our Joplin, Missouri car accident attorneys know that many crash injury victims are not so fortunate.
However, back in September, a teen driver from Noel was involved in a dramatic rollover accident--and he miraculously lived to tell about it. Garret Cook failed to properly negotiate a curve on Big Sugar Creek Road, just outside of Pineville, MO. His 2001 Chrysler ran off the road and struck an embankment, causing the car to flip over multiple times. Fortunately, the teen only suffered moderate injuries after this terrifying accident, but they were severe enough that he had to be taken to Freeman West Health System in Joplin.
According to the accident report filed by the Missouri State Highway Patrol, the Chrysler was totaled. What's more, Cook was not wearing his safety belt at the time of the crash, so it's incredible that his injuries weren't more severe.
In several posts to our Missouri car accident blogs, we've written at length about Missouri car crashes caused because a driver sped through a curve, or crossed the center line while negotiating a curve, only to collide with oncoming traffic or flip the vehicle over (or, in some cases, both). In terms of injuries, the majority of these accident victims are nowhere near as lucky as Garret Cook: in fact, the numbers are pretty grim.


Here are a few relevant statistics about horizontal curves, courtesy of the US Department of Transportation's Federal Highway Administration:
• Horizontal curves play a role in 25% of fatal car accidents, and the majority of these accidents involve a vehicle's departure from the roadway.
• Horizontal curves have an average crash rate about three times higher than other kinds of highway segments. About 75% of these accidents are single-car accidents, wherein a vehicle leaves the roadway, then overturns and/or strikes a non-moving object, like a tree or a utility pole.
• 11% of curve-related fatal crashes were head-on collisions, i.e. where a vehicle crossed the center line and collided with oncoming traffic.
AASHTO, the American Association of State Highway and Transportation Officials, has created a plan that proposes a variety of road design ideas to reduce accidents and casualties on horizontal roadway curves.The plan is part of the "Tools for Life" program, in conjunction with various other organizations, including the Governors Highway Safety Association, the Federal Highway Administration, the National Highway Traffic Safety Administration, the Transportation Research Board of the National Academies, and the National Cooperative Highway Research Program. To read the full AASHTO plan, click here.

Finally, here are some safety tips from the AAA Foundation for Traffic Safety, designed to help Missouri motorists avoid rollover accidents:
• Watch your speed. Speeding cuts down on your reaction time, meaning you're likely to steer more sharply and brake harder if an emergency presents itself (making it much more difficult to control your vehicle).
• Avoid overcorrection. Often, our impulse is to jerk the wheel when we're presented with unexpected circumstances, and this very behavior can cause a vehicle to roll, under the right conditions.
• Understand proper maneuvering. If you find you've drifted off the roadway, again, don't yank at the wheel, and don't stomp on the brakes. Ease onto the brake, slow down gradually, and then ease your vehicle back onto the road--but only when it's safe to do so.
• Keep your vehicle in good driving condition. In particular, make sure your tires are appropriately inflated. Check your tire pressure on a regular basis, and replace your tires when they become too worn--worn tires make sliding much more likely, and often contribute to rollover accidents.
AASHTO's goal--to cut highway fatalities in half within two decades--is one that Joplin car accident lawyers support wholeheartedly. If you have been injured in a Joplin, Pineville or Noel, Missouri car accident and require the services of an injury attorney, please feel free to contact us our office: you can reach us toll-free at 1-888-777-AUTO.
Attorney meetings by appointment only