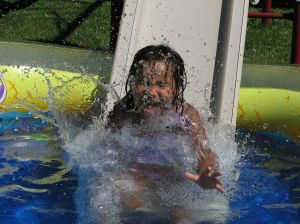 Recently, a 2 year-old Missouri boy was saved from drowning by a political candidate who just happened to be knocking on his front door. It happened in St. Charles County: according to the St. Louis Post-Dispatch, an O'Fallon parent had stepped inside his home for a moment, and when he returned, he found his young son unresponsive in a small rubber swimming pool. Luckily, just about then, state representative candidate Rod Hoffman approached the family's front door, and heard a scream. Hoffman ran to assist the child and immediately performed CPR. The boy survived and has since been released from the hospital.
Hoffman, a former assistant principal, said his former employer required CPR training. "I would sit in those meetings, and it would be pretty much the same stuff over and over, but I'm glad they made me go," he told the Dispatch. "I recall a couple of instances in the last four or five years that a co-worker, teacher or administrator saved a kid or two from choking. It has paid big dividends."
Drownings are the number one cause of injury deaths for children age 4 and younger. Every single day, at least three children die because of drowning. What's more, there are roughly 7.1 million children under age 16 who visit the emergency room each year for various injuries. According to the Centers for Disease Control and Prevention, a majority of child injuries are unintentional, like suffocation, burns, ingestion of harmful substances.
There are nearly 450 children under the age of 20 that are treated in emergency rooms for burns every day. Of these incidents, roughly two die every day. Young children oftentimes acquire these injuries because of steam or hot liquids, while older children experience more of the burns as a result of direct contact with fire.
Children are also commonly injured in non-fatal accidents like falls. This type of accident is the number one cause of non-fatal injuries for those under the age of 20. There are approximately 8,000 children sent to emergency rooms in the U.S. for fall-related injuries every day - which means roughly 2.08 million kids are treated every single year.
Finally, it's prudent for parents to monitor their children's access to dangerous chemicals.Children can be poisoned from a number of products, not just marked products in your home. The most common dangerous chemicals that your child can be exposed to are medicines and household cleaners. Nearly 400 children under age 19 are taken to emergency rooms every day. About two children die every day from unintentional poisoning.

It's no secret that our young ones are at great risk for injury, regardless of where they may be. It is important for parents to keep a close eye on their young ones to prevent a potentially fatal accident. You should also talk with your child about basic safety measures - after all, these simple steps can prevent a trip to the hospital.
If you or a loved one has been involved in an accident in Poplar Bluff, Cape Girardeau, Sikeston or elsewhere in southeastern Missouri, contact the personal injury lawyers at Aaron Sachs & Associates to schedule a free initial consultation. Call us toll-free at 1-888-777-AUTO, or visit our website.
Attorney meetings by appointment only