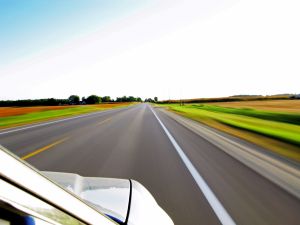 On Monday, officers from the Napanee Ontario Provincial Police cited 22 motorists for distracted and careless driving after witnessing multiple drivers take photographs of an auto accident scene on Highway 401 in Belleville.
According to the Toronto Sun, a transport truck had rear-ended another vehicle at around 6:00 a.m., leaving one driver seriously injured and another charged with careless driving. As law enforcement officials investigated the scene of the crash, they noted numerous drivers stopping to shoot photos and video footage of the damaged vehicles, using cell phones and other electronic devices. According to a news release from police, "[o]ne driver was seen using his elbows to steer his car as he videotaped with a video camera." That driver received a citation for careless driving, and 21 others received tickets for distracted driving, the Sun reports.
All 10 of Canada's provinces have enacted distracted driving laws. Ontario banned texting and driving in October 2009, and offenders face a $155 fine. This year, in Canada's East Region alone (from Quinte West to the Quebec border), police have issued almost 1,800 distracted driving citations.
Meanwhile, in the U.S., 39 states (along with the District of Columbia and Guam) have laws that prohibit all drivers from texting while behind the wheel. This week, officials from the U.S. Department of Transportation announced plans to provide $17.5 million to states that have enacted distracted driving laws in fiscal year 2013.
"Distracted driving is a persistent and growing epidemic on America's roads--but there has also been incredible momentum in the states in recent years to pass laws that tackle the problem head on," said Ray LaHood, U.S. Transportation Secretary, in a recent news release. "This new grant program will provide states that have distracted driving laws with important resources to help save lives and prevent injuries."
Missouri remains one of only 11 states without a texting ban for all drivers. Our only distracted driving law prohibits texting in drivers under age 21. This year, the Missouri Legislature has reviewed at least seven distracted driving bills, but none have come to a vote.

The facts about distracted driving:
• While most of think of texting as the quintessential distracted driving behavior, it's not the only culprit in accidents caused by distraction. According to the National Highway Traffic Safety Administration (NHTSA), "Distracted driving is any activity that could divert a person's attention away from the primary task of driving. All distractions endanger driver, passenger, and bystander safety."
• NHTSA data reveals that 5,474 people died in 2009 crashes caused by distraction - which means distraction was a factor in 16% of traffic fatalities that year. NHTSA officials estimate an additional 448,000 people were injured in these accidents.
• Of traffic fatalities involving distraction, 18% specifically identified some form of cell phone use as the main contributing cause.
At Aaron Sachs & Associates, P.C., our personal injury lawyers represent accident victims in Joplin, Missouri, and throughout the surrounding areas, including Webb City, Carthage, Sarcoxie, Pierce City, and Neosho. To schedule an appointment for a free initial consultation, please call us toll-free at 1-888-777-AUTO, or visit our website to contact us online.
Attorney meetings by appointment only