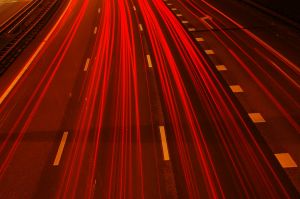 On Friday, a 17 year-old woman was killed when her car was struck by a pickup truck driven by 13 year-old fleeing from police. It happened in Washington, Missouri at around 12:04 a.m.: according to The Washington Missourian, 17 year-old Aubrey Nothum was stopped at a red light when the 13 year-old lost control of the truck she was driving and slammed into the driver's side of Nothum's car.
Prior to the crash, a Franklin County deputy had seen the pickup truck cross onto the shoulder of Route 47. Thinking the driver might be intoxicated, the deputy attempted to pull the vehicle over, but the driver didn't stop, and the deputy pursued. The truck was moving at a high rate of speed when the driver attempted to turn right onto Highway 100 and lost control of the vehicle, slamming into Nothum's car at the intersection.
Nothum was taken to Mercy Hospital St. Louis, where she was later pronounced dead. She leaves behind a young son, who recently turned one.
Meanwhile, the 13 year-old driver and her passenger - her 11 year-old brother - were both hospitalized with minor injuries. According to authorities, the teen had stolen the pickup truck from her parents earlier in the evening. She has since been charged with stealing and second-degree murder, and remains in the custody of juvenile authorities.
Law enforcement officials continue to investigate the circumstances surrounding the accident. A dash cam reportedly captured the chase and the crash, but a judge is currently considering whether or not to release the footage to the public. The Missouri Highway Patrol did not find any alcohol in the pickup truck, and alcohol is not believed to be a contributing factor.

Incidents like this one are rare, but unfortunately, accidents involving young drivers are all too common: auto accidents are the number one cause of death for American teenagers. Statistics from the Centers for Disease Control and Prevention reveal that, in 2009, "about 3,000 teens in the United States aged 15-19 were killed and more than 350,000 were treated in emergency departments for injuries suffered in motor-vehicle crashes." Teen drivers are inexperienced behind the wheel, and they are more likely to make reckless driving decisions - which means they tend to be involved in more accidents than older drivers.
Driver education programs and graduated driver license laws have proven to help reduce teenage traffic fatalities: with more practice and knowledge, teen drivers are much less likely to cause accidents. Through education and supervision, teen drivers can gain experience handling difficult or dangerous situations, and are thus better prepared when they hit the road on their own.
At Aaron Sachs & Associates, P.C., our personal injury lawyers represent accident victims in Kansas City, Missouri, and throughout the surrounding areas, including Lee's Summit, Independence, Blue Springs, Greenwood, Liberty, and Excelsior Springs. To schedule an appointment for a free initial consultation, please call us toll-free at 1-888-777-AUTO. You can also visit our website to learn more about our firm, or to contact us online.
Attorney meetings by appointment only