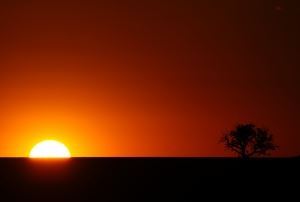 This summer, Missourians have endured unprecedented heat and drought. In July, Governor Jay Nixon declared a state of emergency due to the extreme weather conditions, prompting the U.S. Department of Agriculture to designate all 114 Missouri counties as primary natural disaster areas. According to the Blue Springs Examiner, 29 people have died in Missouri as a result of heat-related illnesses this year, and the state has received 1,078 reports of emergency room visits connected to heat. And those numbers are expected to grow.
"The high temperatures and dry conditions across the state are taking their toll on Missourians," said Gov. Nixon in a recent press release. "Our farmers are suffering tremendous losses in crops and livestock, and we're seeing more heat-related deaths and emergency room visits, particularly among seniors. In addition, we continue to see a high risk of fire from tinderbox conditions, and we are monitoring how the drought is affecting public water supplies and distribution."
Heat exhaustion strikes thousands of outdoor workers in an average summer, but in such severe conditions, these workers are especially vulnerable to illness and injury. The Occupational Safety & Health Administration (OSHA) is reminding employers that they have an obligation to protect employees from heat-related risks. "If you're an employer of outdoor workers, I urge you to take [heat warnings] very seriously and understand that you have a responsibility to keep workers safe," wrote Dr. David Michaels, Assistant Secretary of Labor at OSHA, on the department's official blog. "That means providing workers regular access to water so they can stay hydrated. It means scheduling regular break periods in the shade or indoors. It means training workers on the signs of heat illness--and what to do if they see a co-worker showing signs of dehydration or heat stroke."
To combat the dangers associated with heat, employees should drink plenty of water, rest in the shade, report heat symptoms early and understand what steps to take in an emergency. OSHA's website also provides numerous safety tips - and an app that functions as a heat safety tool.In addition, the National Oceanic and Atmospheric Administration has partnered with OSHA to provide a heat watch for workers:
• Excessive Heat Outlook: Will occur when the potential exists for excessive heat during the next 3 to 7 days.
• Excessive Heat Watch: Indicates conditions are favorable for excessive heat during the next 12 to 48 hours.
• Excessive Heat Warning: When excessive heat is expected during the next 36 hours.