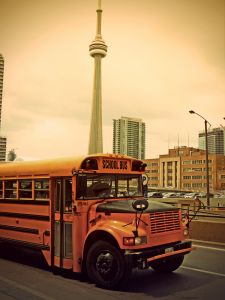 For years, safety advocates and federal agencies have debated the issue of seat belts in school buses. With school back in session and a rash of school bus accidents already in the headlines, it's certainly a timely topic. Last year, the National Highway Traffic Safety Administration (NHTSA) denied a petition for rule-making from 22 different organizations, including the prestigious Center for Auto Safety. In the petition, these organizations asked the agency to mandate the installation of three-point seat belts (lap and shoulder harness style) in all large school bus seats.
NHTSA officials have conducted thorough investigations of numerous school bus accidents to determine appropriate safety standards for large school buses. In the Federal Register, NHTSA explained its position: officials denied the 2011 petition because investigators have "not found a safety problem supporting a federal requirement for lap-shoulder belts on large school buses, which are already very safe."
Small school buses already have seat belt requirements in place. These vehicles are built with the same chassis and frame as a small truck, and thus have similar crash responses. Seat belt requirements for small buses match those that are found in passenger cars and trucks.
Instead of a federal mandate requiring seat belts in large school buses, NHTSA officials recommended that states and local jurisdictions weigh the evidence, benefits and consequences of seat belt installation, and make their own decisions. In fact, several crash investigations have indicated that if seat belts were used in school bus crashes, students might have been more severely injured, rather than more protected.
The traffic safety agency also pointed out that requiring seat belts will increase the costs associated with purchasing and operating school buses, which could have a negative impact on school budgets. School districts might be forced to reduce the availability of school bus service--another unwanted consequence.

NHTSA officials also rejected a school bus seat belt petition in 2010. Data from several studies was presented at that time, including research conducted by the National Transportation Safety Board and the National Academy of Sciences. In fact, NHTSA authorities have repeatedly and openly considered this issue since 1976, always arriving at the same conclusions.
Missouri parents should not assume that just because there are no seat belts, their children are at greater risk of injury during a bus accident. School bus seats are specially designed to protect children in an accident: this design is known as "compartmentalization." When alternative means of transportation to school are used instead of school buses, the risk of motor vehicle injuries or fatalities is much greater than when a large school bus is used.
At Aaron Sachs & Associates, P.C., our car accident lawyers represent injury victims in Joplin, Missouri and throughout the surrounding areas, including Carthage, Webb City, Sarcoxie, Carl Junction, Lamar and Pierce City. To schedule an appointment for a free initial consultation, please call us toll-free at 1-888-777-AUTO, or visit our website to contact us online.
Attorney meetings by appointment only