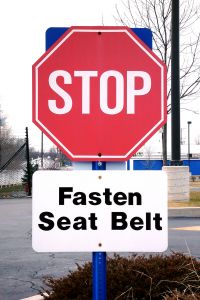 A two car accident in Boone County has sent seven people to the hospital, one with serious injuries. This unfortunate head-on collision happened on August 16th near the Midway Expo Center on Hwy 40. Columbia Missouri car accident lawyers were disappointed to hear that out of the six passengers in one of the vehicles, five were not wearing seat belts.

Apparently, a Buick with six occupants was traveling east and turned into the path of an oncoming Jaguar driven by Gregory Robinson of Columbia MO. (Robinson was wearing a seat belt.) The two vehicles collided head on, leaving the Jaguar in a ditch after it first collided with a concrete culvert, and then caught fire. The Buick landed right in front of the Little General Convenience Store.
Battalion Chief Gale Blomenkamp of the Boone County Fire Protection District said the Buick's driver was the only person with serious injuries, but all those involved in the crash were taken to University Hospital.
One of the passengers in the Buick was thrown into the windshield--clearly not the occupant who was buckled in. Unfortunately, three young children in the Buick were reported to have sustained moderate injuries.
Four ambulances and three fire trucks responded to the accident, with an approximate total of 20 emergency responders on the scene.
As of the time of this writing, the exact cause of the accident has not been determined. It was raining at the time, and the Missouri State Highway Patrol is investigating to see if that was a significant factor in the accident.
However, one thing is definitely known--buckling up is the law.
Missouri State Statute 307.178 says the driver and all front seat passengers (unless exempt for medical reasons) must use a seat belt. The driver, in this case Anna Sapp, 58, of Armstrong, was also responsible for ensuring that all children under 16 years of age, no matter where they are seated in the vehicle, were properly restrained by a seat belt or car seat. This is a responsibility she did not meet.
The three young occupants of the vehicle were 9 year old James Vahldick, 11 year old Kayla Vahldick and 6 year old Preston Vahldick.
Columbia Missouri car crash lawyers have seen too many instances of children injured in auto accidents where they were not using the proper restraints, and we know these three children are lucky that their injuries were not serious. However, it is entirely possible they would not have been injured at all if they were properly buckled in. Why weren't they? Seat belt use has been the law for so long that it is not possible there could be anyone unaware of it.
Could it be that many people in Columbia simply don't care because the fine for not wearing a seat belt is only $10 per person? Even the fine for not securing a small child in a car seat doesn't exceed $50.00.
However, from the point of liability, not wearing a seatbelt is usually not a great issue. If the defense attorney tells the jury about the failure to wear a seat belt, your attorney is entitled to request a limiting instruction that limits the jury from placing more than one percent of fault on you for not wearing a seat belt.
Columbia auto accident attorneys want to remind all our neighbors--it is a well-known fact that the simple act of buckling up greatly improves your chances of surviving a serious auto accident, and can minimize any injuries sustained in an accident. So buckle up, or at the very least, buckle up your children for safety. You never know when an accident will happen.
 
Attorney meetings by appointment only