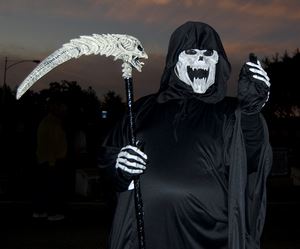 Have you ever noticed how many horror movies feature a big rig, semi-tractor trailers, or their drivers? Quite often truck accidents, from Columbia to Joplin, Missouri, result in real tragedy. But on the big screen there is also the supernatural element to contend with. From truck accidents to road intimidation to murderous rampages, these large vehicles instill fear. And that fear has been capitalized on by the film industry.
But sharing the road with a tractor trailer does not have to be a horror show. By following simple safety tips, such as keeping in mind the size, weight, and lack of maneuverability of a large commercial truck, we can all keep this Halloween season a safer time on our Missouri roads.
Safe Driving Around a Large Commercial Truck



Stay out of the driver's blind spots, also known as the No Zone.


Large vehicles appear to be traveling slower than they really are. Don't try to beat one by pulling out in front.


Give a tractor-trailer plenty of room. Avoid traveling next to one, tail-gating, or cutting them off when you pass.


The size and weight of a large truck makes them hard to stop and hard to maneuver. Don't expect that they will be able to get out of the way or stop in time.


Good Safe Tractor Trailer Accident Scares on the Screen
Are you looking for a safe way to be terrorized by a big rig monster this Halloween? Check out the following films for ways to be scared to death by a tractor trailer from the safety of your living room, not while you are behind the wheel of you own car.

We don't promise high quality for all of these films, but sometimes a good Halloween fright comes in the form of a lower budget, poor acting affair. Check these out and have a great Halloween movie fest.



High Tension - 2005 with Cecile de France, a truck driver stops at a farmhouse to terrorize the family in the middle of the night.


Joy Ride - 2001 with Paul Walker and Steven Zahn, a group of kids are pursued by the deranged driver a speeding 18-wheeler.


Duel - 1971 with Dennis Weaver, in this classic a business commuter is terrorized by a massive tractor trailer.


Breakdown - 1997 with Kurt Russell, after a couple narrowly avoids a truck accident they break down in the middle of nowhere and the wife "disappears" after she accepts a ride with another trucker.


Prowl - 2011 with creatures of the night, teenagers broken down on the side of the road are offered a lift by a trucker, but they have to ride in the trailer. It gets really creepy from there.


Maximum Overdrive - 1986 with Stephen King, the world's machines, led by an army of belligerent tractor trailers, rise up against the human race. This film was remade in 1997 and called Trucks, watch the original.


Cars Can Be Scary Too:


Christine - 1983 Stephen King classic, no scary vehicle movie list is complete without this evil 1958 Plymouth Fury.


Dead End - 2003 French production, and of course Halloween would not be complete without a haunted, evil hearse chasing you while you are lost in the woods in the middle of the night.


More Interactive Halloween Activities
For parties, haunted houses, trick-or-treat alternatives and other fun ideas for Halloween, we suggest you check your community newsletters, city's websites, newspapers, and news sites. Check with your local law enforcement for safe Halloween tips and safe places for the kids or the whole family.
To get you started follow these links to check around these Missouri cities: Columbia,Springfield, Joplin, and Cape Girardeau.
The Missouri truck accident lawyers wish you a safe, fun, and truck accident free Halloween.
Attorney meetings by appointment only