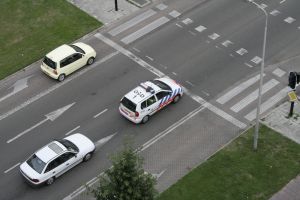 Although over 90% of Columbia Missouri car accidents are primarily the cause of one or more drivers, there are also instances where the roads themselves are hazardous, poorly designed, or poorly marked. In some cases, there is no stop sign or light in an intersection that badly needs one. In other cases, the increase of motorists over the years turns a formerly safe, low traffic intersection into a dangerous, high traffic one. Unfortunately, it frequently takes a history of car accidents at one of these intersections before the situation is studied and rectified. One of these road design factors might have been partially at fault for a car accident that sent two women to Columbia's University Hospital on the morning of Sept. 29.
Columbia car accident lawyers have learned that The Missouri DOT is currently in the process of replacing the crossover at Missouri 163 with J-turns, in an attempt to help eliminate T-bone collisions. There are also several other J turn replacement projects in the works, as part of the Missouri Coalition for Roadway Safety's Targeted 10 in the Blueprint and Innovative Intersections.
Here's what happened in this Columbia T-Bone accident:
A white Monte Carlo driven by Kimberly A. Garrett, 52, of Ashland, attempted to cross the southbound lanes of U.S. 63. She was T-boned by a red Cavalier driven by Yolandis Patterson, 34, of Jefferson City. Garret was ejected from her vehicle, landing fifty feet away in a ditch. She was not wearing her seat belt at the time of the accident.
University hospital reported that her injuries were serious, but she was in good condition by that afternoon. Patterson also suffered moderate injuries, including fractures, and was reported in fair condition.
Both the Boone County Fire Department and the Missouri Highway Patrol responded to this accident. According to Sgt. Matt Broniec of the Missouri State Highway Patrol, the Monte Carlo pulled out in front of the Cavalier.

What are J Turns?
J-turns allow motorists to cross traffic on busy routes more safely. They are being implemented at roadway intersections of four lane, divided highways around Missouri in an attempt to reduce traffic crashes, fatalities and injuries.
Instead of motorists crossing two fast-moving lanes of traffic to get to the opposing traffic lanes, with a J turn, drivers must turn right with the traffic, then merge into the left lane and make a left turn in the direction they intended to go.
Eileen Rackers, MoDOT's state Traffic Division engineer, says "There is much less chance of having crashes, especially angle crashes (commonly referred to as a T-bone) from anyone crossing the two lanes of traffic. Angle crashes can be very severe, and frequently lead to traumatic injuries and even fatalities."
A typical Missouri four-lane divided highway with a crossover intersection like the one where Garrett and Patterson collided has 42 possible vehicle conflict points. Simply by installing a J-turn design intersection can reduce these conflict points to as few as 16. Although drivers will have to travel a bit farther to reach their destination, with J turns, dangerous right-angle crashes can be completely eliminated.
If you have been injured in a T-bone or other type of car accident due to the negligence of another driver, you may have a case requiring the services of a Columbia car accident lawyer. The Columbia MO law firm of Aaron Sachs offers a no-cost initial assessment of your car accident claim. There is never any pressure or obligation. Call us today at 1-888-777-Auto (2886).
Attorney meetings by appointment only