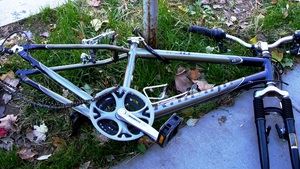 Independence Missouri car accident lawyers see all types of accidents. Hit and run accidents are in the news all of the time and are one type of car accident that can be the most difficult to deal with for the people involved. Quite often a hit and run car accident brings up questions that cannot be answered, which prevents avenues for closure. One of the most recent examples is a car accident in which a car hit a man on his bicycle.
This hit and run bicycle accident happened in Independence around 10 pm on Friday night September 30, 2011. A bicyclist was riding his bike in the far right side of the westbound shoulder on Missouri Highway 78 when he was hit by a van or SUV also traveling in the westbound direction. Per one witness, the driver drove off without stopping, dragging the bicycle. He then pulled into a parking lot, backed up to remove the bike from his vehicle, and continued away. The bicyclist was taken to the hospital but was later pronounced dead.
In this situation the driver turned himself in the next day. He has subsequently been charged with leaving the scene of a motor vehicle accident and careless and imprudent driving. The driver states he did not know what he hit and therefore kept going.
But quite often the hit and run driver is never found and many questions are never answered. This can leave the victims and the victim's families feeling lost, confused, and at a dead end.


Most Common Reasons People Hit and Then Run
There are many reasons people leave the scene of a hit and run car accident. Most of the reasons center around the driver being too afraid to acknowledge what happened. Sometimes even when a driver is not the cause of the accident, they are just too overwhelmed or have something to hide so they flee.
The following are some of the most common reasons a driver will leave the scene of an accident.



Drunk or intoxicated, including drug use


No Insurance


No driver's license


Too afraid of what they did


Fear of legal consequences


Trying to protect their "status"


Already running from another crime


Fear of arrest for wants or warrants for previous crimes


It is very common for someone who is intoxicated to leave the scene of an accident to avoid a DUI. They may later come forward and claim they did not know what they hit or they did not know they were in an accident. The rationale is that it is better to leave the scene of the accident and come clean later than it is to face another DUI.
If a pedestrian or bicyclist is hit, even if the pedestrian or bicyclist caused the accident, the seriousness of the trauma or death involved can make a person even more inclined to run.
Hit and Run Accidents in Missouri
If you are the victim of or witness a hit and run car accident, try to write down everything you see and remember as soon as you can. Seek medical and legal assistance as soon as possible. Notify the police and tell them everything you can think of or remember while it is still fresh in your mind.
It can be very difficult to overcome the effects of a hit and run accident. The emotional trauma combined with unanswered questions can make the situation worse. It is important to talk about it and seek help and support from professionals. Start with your doctor, the law enforcement officer handling your case, and your lawyer. Ask questions of them and look for support groups. Ask your medical professional for a referral or check with your insurance company. Visit the Missouri Department of Health and Senior Services for help in your area. Do not feel like you are alone. There are plenty of trained professionals able to help.
For legal questions about a hit and run accident contact the Independence Missouri car accident lawyers. We will talk with you about your accident in a free consultation meeting. Call 1-888-777-Auto(2886).

Attorney meetings by appointment only