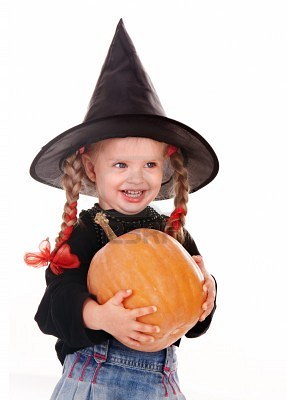 Joplin car accident lawyers join with the Missouri State Highway Patrol in urging everyone to have fun on Halloween--but keep safety and common sense in mind at all times. Joplin and all Jasper County motorists are reminded to watch for kids in costumes, and drive with extra caution, particularly through residential neighborhoods where our children are out and about carrying on the trick-or-treat tradition. If you are heading to a party in costume, please make sure that your own costume does not hinder your vision or mobility in any way.
Trick-or-treaters of any age are recommended to keep costumes short, to keep from tripping over them. Masks are more dangerous because they limit one's range of vision--consider using makeup instead. Reflective tape added to any dark colored costumes assures you will be visible in the dark, and not run the risk of being hit by a driver who couldn't see you.
For trick-or-treating after dark--take a flashlight. Parents, accompany your small children. Older kids should trick or treat in groups for safety.
If you will be having your Halloween fun at a party with alcohol, as always, make sure you have designated a non-drinking driver for your trip home. Drinking and driving is just as dangerous on Halloween as any other night, perhaps even more-so with all our Joplin kids out having fun.
Click here to read the Missouri State Highway Patrol press release.
The organization Safe Kids USA, has just released the results of its first Halloween study. They commissioned Harris Interactive to conduct a poll of 935 parents with children ages 12 and younger. The results were disturbing:
• Only 1/3 of these parents talk to their kids about Halloween safety each year.
• Twelve percent of children five years of age or younger are permitted to trick-or-treat alone.
• On average, twice as many child pedestrians are killed while walking on Halloween compared to other days of the year.
• 40 percent of parents allow their child to use unsafe items on Halloween including: a mask, loosing fitting clothing, and / or a sharp object - any of which could contribute to falls, burns or other injuries.

Read more about the Safe Kids study.
Halloween events in Joplin:
80s Halloween Costume Party http://www.downstreamcasino.com/Entertainment_Venue.aspx to raise money for Joplin food pantries, put on by Joplin Parks and Recreation Department, Joplin Area Chamber of Commerce and Downstream Casino Resort. October 29 at the Downtown Casino Resort, located near Joplin in Quapaw, Oklahoma. Admission $20.
Pathways Corn Maze - the largest corn maze in the four state area! 23895 State highway 96, Oronogo, MO 64855. Phone: 417-529-8508. Wind your way through a giant 18 acre corn maze north of Joplin. Come at night and do the flashlight maze!
The staff at the Joplin car accident law firm of Aaron Sachs & Associates, P.C. wishes you all a scary but SAFE Halloween! As always, we are here if you need legal assistance. Call us for a free initial consultation about any car accident or other personal injury claim.

Attorney meetings by appointment only