There's going to be some new parking spaces for trucks on Interstate 70, according to the Missouri Department of Transportation (MoDOT). The state recently was granted $1 million in federal funding for the project. These spaces are going to be used to make it easier for truckers to find spots to rest during their long road trips. More space to rest hopefully equates to less-sleepy drivers and fewer drowsy driving-related trucking accidents in Perryville, New Madrid, Dexter and elsewhere throughout Southeast Missouri.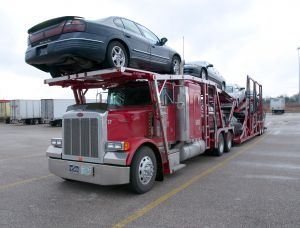 To help keep our roads safe and keep drowsy drivers from getting behind the wheel there's a limit to how much time a truck driver can spend behind the wheel. These rules were enacted to reduced truck driver fatigue. Drowsy driving accidents have reduced by nearly 40 percent from 2004 to 2010, but officials worry that sleepy drivers are still causing too many preventable accidents on our roadways.
Our Perryville trucking accident attorneys understand that Interstate 70 is an important freight corridor, but we also realize that many residents use this roadway as well. It connects river ports with large rails and five interstates for cities across the state. Transportation officials are using their time and money to help reduce the risks of trucking accident on this roadway.
"This grant will help us maintain highway safety as the number of trucks on the interstate grows," said Jan Skouby, MoDOT Motor Carrier Services director.
In the last few years, the state has doubled the available spaces for trucks to park along interstates, but it's difficult to keep up with the expansion of the industry and the increasing number of trucks. The number of these commercial vehicles on I-70 is expected to double by 2030. MoDOT is continuing its efforts to add spaces to keep up with the growth and accommodate truckers' needs.
The DOT recently applied for the federal funding to create more spaces and was approved by the Federal Highway Administration grant to push on with its efforts. Construction is planned to begin by the end of 2012.
Skouby says the transportation department will be working alongside freight-hauling customers to help determine the best locations for the parking spots. She says that the availability and location of these rest spots directly affects a trucker's ability to pick up and drop off shipments in a timely manner. On-time deliveries can in turn affect the prices that consumers pay for these products.
According to the National Highway Traffic Safety Administration (NHTSA), there are at least 100,000 accidents reported each year caused by a drowsy driver. These estimates figure that more than 1,500 people die and more than 70,000 are injured, resulting in nearly $13 million in monetary losses. Many estimates figure this number to be much higher because it can be difficult for officers to attribute sleepiness specifically as an accident cause.