Too many of our clients are the victims of accidents caused by distracted driving. Because of this, Springfield Missouri injury lawyers have addressed this subject many times in our blogs. Although changing the laws can help, this increasing problem will probably only be solved by bringing more public awareness to the issue. Now, the Missouri Coalition for Roadway Safety, KRCG-TV and Joe Machens Ford have come up with a wonderful and pro-active idea.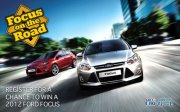 As part of an awareness campaign to discourage distracted driving across the state, they are sponsoring "Focus on the Road", which includes a chance to win what else--but a new 2012 Ford Focus. Licensed Missouri drivers have until midnight of Dec.14th to enter the drawing for the new car, and the winner will be announced Monday, Dec.19 after 13 excited finalists each try their key in the car to determine the winner.
Read MoDot's press release about "Focus on the Road" here.
Although it is difficult to get exact statistics about distracted driving related car accidents, it is estimated that distracted driving causes around 8,000 crashes nationwide every day. Everyone probably knows that cell phone use, including dialing, talking and texting comprises the biggest hazard. But many people are unaware of other less publicized distractions such as map reading, fiddling with the cd player, or putting on makeup.