The tornadoes and the torrential rains mean the roofers will be even busier than usual this spring and summer. Employers have an obligation to protect employees from fall hazards, heat stroke and other dangers associated with roofing accidents in Springfield, Columbia and elsewhere in Missouri.
The Occupational Safety & Health Administration has spent the spring issuing directives aimed at reducing the risk of residential and commercial roofing accidents. Still, two Missouri roofing companies were recently cited for significant health and safety violations.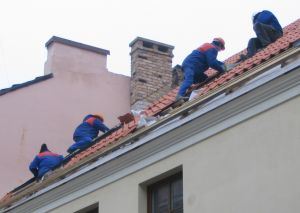 A St. Louis roofing company was slapped with nine alleged safety violations for repeatedly exposing workers to fall hazards; the proposed fine is more than $56,000.
"Falls remain the number one killer of workers in the construction industry," said Charles E. Adkins, OSHA's regional administrator in Kansas City, Mo. "OSHA will not tolerate employers who place workers' lives at needless risk by repeatedly failing to provide and ensure the use of fall protection."
Less than two weeks later, another St. Louis roofing contractor was issue proposed penalties of nearly $70,000 for 11 serious and repeated safety violations. Safety issues included fall hazards, lack of eye protection, scaffold fall and trip hazards and inadequate training.
Late last year, OSHA withdrew permission for residential roofers to bypass some fall protection requirements. Previously, some protections had not been mandated for residential roofers in cases where feasibility, space to operate, or other concerns were present. The high number of deaths among residential roofers moved the government to make the change.
"We cannot tolerate workers getting killed in residential construction when effective means are readily available to prevent those deaths," said Assistant Secretary of Labor for Occupational Safety and Health Dr. David Michaels. "Almost every week, we see a worker killed from falling off a residential roof. We can stop these fatalities, and we must."
The Bureau of Labor Statistics reports an average of 40 workers are killed each year in falls from residential roofs and hundreds more are injured.
Fall protection requirements for residential roofers now include a requirement that those working at a height of six feet or more use guardrails, safety nets or personal fall arrest systems.
Those seeking exemptions from the rules must have an alternative fall-protection plan in writing and must document the reason why conventional fall protection will not work or would create a greater hazard.
Visit OSHA's residential fall protection program for more information.