If you have been involved in a Joplin auto accident or truck accident, there will be various types of insurance paperwork that need to be filled out. However, there are some forms that Joplin Car Crash Attorney's advise never signing without first consulting a Joplin car accident lawyer.
The first thing you will have to do is to see medical care. At some point, you may want to notify your own insurance company. Typically, information they will discuss includes: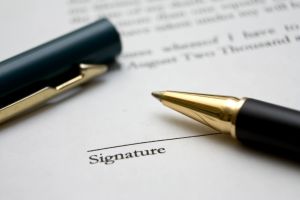 • Date and time of the accident
• Location of the accident (be as specific as possible)
• How the accident happened
• How many and what type of vehicle(s) were involved, including make and model, and the year if possible.
• A thorough description of each vehicle's damage (if you had the presence of mind to take photos at the scene, that can really help your case)
• The names and contact information of everyone involved in the accident
• The names and contact information of anyone who witnessed the accident
• If the police were contacted (always contact the police, their report is invaluable evidence)
You might also be contacted by the other driver's insurance company, and they may request either a recorded statement or that you sign something called a medical authorization. Although the insurance adjuster will present these requests as just more "routine" insurance paperwork, we strongly recommend you don't agree to either one without first talking to a Joplin personal injury lawyer.
If you sign a medical authorization, you may be giving the insurance adjuster direct access to your medical, personal or work records. These records sometimes includes information that is unrelated to your claim--but which can be used against you if your case goes to court. Also, it may invade your privacy rights. As far as the recorded statement goes, this is another way the negligent driver's insurance company maybe trying to build a case against you by looking for things you did wrong or could have done to avoid the collision. The other driver's insurance adjuster works for the insurance company, and not for you.
If you are being pressured to sign any insurance paperwork, politely refuse and refer them to your attorney. Once you have hired a Joplin car accident law firm, at that point, the insurance company has to communicate directly with your attorney, not with you.
After an accident, people are frequently in shock, injured, disoriented and exhausted. They are definitely not thinking clearly or on top of their game, particularly if injured. An insurance adjuster might try to take advantage of that situation by offering you a cash settlement immediately after your accident. Remember, the insurance adjustor, no matter how friendly or nice, does not work for you--he is not on your side.
If you accept this cash offer, you will generally have to sign a release. Once you sign this release, you may be barred from seeking reimbursement for any future costs from the at fault party, no matter the extent of your injuries or disabilities from this car accident.
When it comes to auto accidents and insurance paperwork in Joplin, Neosho, Carthage or Webb City Missouri, caution is advised. Find out your rights and talk with a Joplin personal injury lawyer, and never sign any insurance forms or paperwork until you have made that call. Consult with a Neosho Car Accident Lawyer and make sure your rights are protected.

Attorney meetings by appointment only