Joplin Boating Accident Lawyers want to wish everyone a happy, safe and healthy Independence Day Weekend. Nationwide, the Fourth of July holiday is one of the busiest boating weekends of the year, with many of Joplin, Neosho, and Webb City residents taking to the rivers, or one of Missouri's many beautiful lakes. Unfortunately, with large numbers of party oriented people taking to the water, there are the inevitable (and avoidable) boating accidents.
If there is anyone out there who is not already aware--drinking and boating is just as illegal as drinking and driving. (Obviously, we are referring to driving a boat while under the influence, not simply being a passenger.)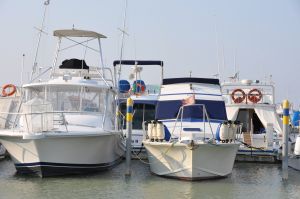 According to the U.S. Coast Guard, boating under the influence was the leading contributor to on-the-water accidents...and the unfortunate loss of 126 lives last year. With the long Fourth of July weekend just ahead of us, the U.S. Coast Guard Auxiliary encourages all boaters to "Boat Responsibly." Please have a designated "captain" chosen before you leave dock.
Coast Guard statistics show that alcohol use was involved in 330 boating accidents and contributed to the deaths of 126 boaters in 2010 alone.
Joplin Injury Attorneys do not want to see you ruin your holiday with a boating accident, and wind up in our offices! Here are some of the Coast Guard's safety tips:
1. Wear a life jacket at all times. They only work if they are worn--please don't wait until your vessel has capsized or someone has fallen overboard to start looking for them.
2. Children under the age of 13 are required by law to wear life jackets at all times on recreational boats.
3. We have already mentioned it; but it bears repeating--do not operate a boat drunk. There is something about the effect of the motion of the vessel, along with the sun, that intensifies the effects of alcohol. Drinking the same amount that usually does not intoxicate you on land might very well make you completely wasted on water.
4. Use a VHF-FM marine radio for distress calls, on channel 16.
5. Know the weather forecast and water conditions where you plan to boat.
6. File a float plan.
In addition, know that Missouri law requires anyone born after January 1, 1984, to successfully complete a boating safety education course to legally operate any vessel on the lakes of Missouri. Once completing the course, students must purchase a boating safety identification card ($20) from the Missouri State Highway Patrol, which is valid for the student's lifetime.
For more info about boating safety, visit the U.S. Coast Guard's Boating Safety Resource Center.
Holiday weekends in Joplin are for family and fun, and taking advantage of everything our beautiful state has to offer. If you see us out on the lake, you can be we will be wearing our lifejackets... how about you? Again, the Joplin personal injury lawyers at Aaron Sachs wish you a joyful Independence Day.
Attorney meetings by appointment only