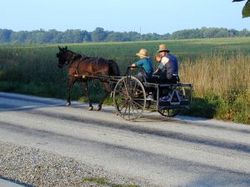 Missouri drivers know a little something special about "sharing the road." Of course, like drivers nationwide, we always have to be on the lookout for pedestrians, bicyclists, and children waiting at bus stops or playing in the street. But in southern Missouri, especially in Greene and Webster Counties, drivers will quickly recognize a unique yellow sign that depicts a horse-drawn buggy: this sign alerts highway drivers that they are sharing the road with a very different kind of vehicle. It's imperative that Missouri drivers take these signs seriously: failing to do so can have serious consequences.
Sadly, such was the case very recently on Highway O, four miles northwest of Seymour, MO, close to Diggins, near an area where an Amish community resides. On the morning of Wednesday, November 30, eighteen year-old Peter Zook was driving a horse drawn buggy down a Webster County road when he was rear-ended by a sport utility vehicle.
According to the Missouri State Highway Patrol, Zook was ejected from the buggy upon impact. The buggy was totaled. Zook was seriously injured, and was air-lifted from the scene to St. John's Hospital in Springfield, MO. The driver of the SUV, 87 year-old Loin Barker, was not injured in the accident, but his vehicle sustained extensive damage. Southern Webster County firefighters remained on the scene for several hours. There is no word as to what factors caused the accident, or whether or not charges will be filed against Mr. Barker.
Granted, this accident received a great deal of media attention simply because of the type of vehicle involved. But while buggy-SUV collisions are a rarity, rear end collisions, unfortunately, are not - in fact, they're among the most common kinds of accidents. There are many possible causes, several of which have to do with inattentiveness: using a cell phone, reaching for something, changing the radio station, etc. Often, rear end collisions are caused by following too closely, attempting to go through a yellow light when the car in front of you decides to stop, poor road conditions or visibility, or something as simple as a foot sliding off a brake pedal. In most rear end collisions, the at-fault party is presumed to be the driver that did the hitting, although there are a few exceptions.