Traffic accidents produce a constant need for offering condolences. Everyday someone is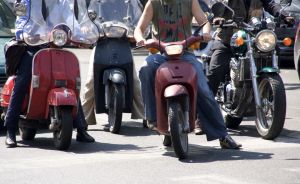 seriously injured or killed in a traffic accident. Poplar Bluff Missouri car accident lawyers share in the sorrow over the latest tragedy on our southeast Missouri roadways.
Investigators from the Butler County Sheriff's Department and the Missouri State Highway Patrol are investigating a fatal hit and run accident that occurred Sunday around 10 p.m. August 14. An 18 year-old boy from Poplar Bluff, Mo was riding his motorized scooter on Highway 142. He slowed to make a turn and was struck from behind by a pickup truck. The driver of the truck then fled the scene. The driver of the scooter was pronounced dead. The hit and run traffic accident occurred just east of Poplar Bluff.
Scooter Traffic Safety and Awareness for Southeast Missouri Motorists
Motorized scooters have become a very popular mode of travel. Light weight and with high fuel economy, scooters are a great way to get around. From students to senior citizens, they make a great choice for a quick trip to the store or other errand. They are easy to park and easy to handle, which makes them a great alternative to a motorcycle.
However, like motorcycles they are harder to see and have none of the protective barriers of a car. Another drawback is acceleration and top speed capabilities. Many scooters can only reach 45 mph and most take longer than a motorcycle to accelerate and match traffic speeds. This puts drivers of motorized scooters, motorized bicycles and mopeds at a greater risk for a traffic crash.
Poplar Bluff accident attorneys promote safety and awareness. It is far better to avoid a traffic accident then to ever need the services of one of our lawyers. What follows are Missouri laws regarding motorized scooters, motorized bicycles and mopeds. It is our hope that by sharing these we can help avoid another tragedy like the hit and run accident Sunday.
Missouri Motorized Scooter and Bicycle Laws



A motorized scooter, bicycle or moped may only be operated on the street by a licensed driver.


A motorized scooter, bicycle or moped must obey all traffic laws.


A motorized scooter or bicycle with a traveling capacity greater than 30 mph and a cylinder capacity greater than 50 cubic centimeters is classified as a motorcycle and must adhere to all Missouri motorcycle laws.


The law prohibits moped or motorized scooter travel on any part of the federal interstate highway system.


Most of all the accident lawyers of Poplar Bluff Mo know that driver inattention is the number one cause of traffic accidents. Drive a motorized scooter, motorized bicycle or moped expecting that another driver will not see you or know what speeds you can travel and will not react accordingly. Take extra precautions to make yourself visible and to arrive alive.
What to do if you've been involved in a southeast Missouri scooter accident
Once again we hope you never have to call us. Mopeds and motorized scooters can be a safe, economical and highly enjoyable mode of transportation. But if the worst does happen and you or a loved one have been involved in a motorized scooter, motorized bicycle, or moped accident, call the southeast Missouri accident lawyers as soon as you can at 1-888-777-Auto (2886). We have investigators and lawyers experienced in these types of accidents. Call and schedule an appointment for a free consultation.

Attorney meetings by appointment only