Summer is such a fun time for kids. For everybody the summer break from school seems to go by so fast.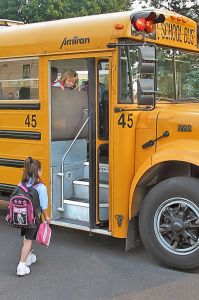 Yet it is back to school time and so Greene County accident lawyers have several school bus safety reminders for parents and kids to add to their school supply checklist.
Sadly, school bus accidents still occur. August 5 was the anniversary of a fatal school bus accident in Franklin County. And the headlines remind us of other tragic school bus accidents all the time. With this in mind, Springfield Missouri school bus accident lawyers urge you to review these important safety tips with your family.
Greene County Missouri School Bus Safety Tips
Tips for parents and all drivers:



Stop at school bus flashing red lights. Remember if you are tempted to drive around a stopped school bus, school buses are hard to see around. Don't take the chance of hitting a child.


Slow down. Observe all school bus flashing lights and drive the speed limit in school zones. In these areas there can be a lot of kids coming from all directions. It only takes an extra minute or two to slow down and avoid a tragedy.


Be patient any time a school bus is stopped. You must always assume a pedestrian is near if a school bus is stopped. Children tend to run or dart out suddenly. Be extra cautious around a stopped school bus.



Tips for students:



Always walk on the sidewalk.


Always walk to the bus stop, never run.


Try to arrive at least 5 minutes before the bus arrives.


Do not run or play around the bus stop area, wait quietly off of the street.


Always wait until the bus comes to a complete stop.


Stay in line when getting onto the bus and use the handrail.


Go directly to a seat and remain seated until the bus stops to let you off.


Stay facing forward and speak quietly while inside the bus.


Be extremely quiet when the school bus stops at railroad crossings.


Do not play, yell, get out of your seat, fight, or throw things on the bus.


Keep the aisles clear at all times, this includes feet and back-packs.


Never play with the emergency exits.


Listen to the driver at all times.