Airbags are designed to reduce injuries and to save lives during traffic accidents. But sometimes airbags fail to deploy or deploy at the wrong time. Carthage car accident lawyers want to make you aware of this safety fact and share what to do if you are involved in a traffic accident in Carthage or surrounding southwest Missouri and there is airbag failure of some kind.
Brief History of Automotive Airbags
The first U.S. patent for airbags was in 1953 for a "safety cushion assembly for automotive vehicles" which was the prototype for airbags as we know them today.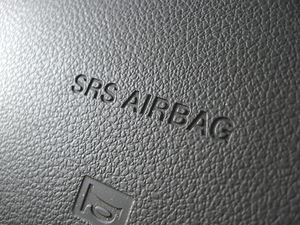 Also in 1953 a German inventor received a patent for an "inflatable cushion" to protect drivers. These patent's inspired Ford and General Motors to begin experimenting with inflatable restraints.
The initial problems with this type of safety system involved getting the airbags to quickly and accurately sense a collision and then inflate in 40 milliseconds or less. But more importantly what followed was and is the continuing challenge of finding ways to reduce secondary injuries from the airbags themselves.
In the late 1960's a New Jersey mechanical engineer invented a reliable inexpensive crash sensor. Allen Breed's invention revolutionized the airbag industry. He also invented other safety devices including his 1991 patent for an airbag that vents air as it inflates instead of fumes from the inflation device. But the biggest benefit from this was that the airbags were far less rigid.
In 1973 the Oldsmobile Toronado became the first car equipped with a passenger airbag and since 1990 airbags have become standard equipment on all vehicles.
Airbag Failure During Traffic Accidents
Airbags are designed to supplement seat belts and other vehicle crash safety features such as crumple zones. They are designed to absorb some of the impact of the collision. But in the early days of airbags numerous injuries and even deaths were recorded as a result of the airbags. I injuries ranged from burns and inhalation injuries to hearing damage, head injury, eye damage, broken bones and even brain damage.
Today airbags can still pose a risk during traffic accidents from powder burns and bruises to scratches and even more serious injuries. According to Consumer Affairs, as of 2006, 264 people had been killed by airbags since the National Highway Traffic Safety Administration (NHTSA) began keeping this statistic. Newer cars have safer and safer airbag systems but the biggest risk occurs when the airbag fails to deploy at all.
An airbag may fail to deploy because of defect or design malfunction. And unfortunately if there is an airbag deployment problem it is not discovered until it is too late, during an accident. Airbag failure can lead to serious injury and even death. NHTSA studies have shown that an airbag combined with a seat belt reduce injuries by 83%. Without airbag protection impact with the steering wheel, dashboard, or windshield is extremely likely. Any collision above 25-35 mph, when airbags are designed to deploy, can lead to serious impact injuries to your chest, lungs, heart, shoulders, arms, neck, or head.
NHTSAs Airbag Safety Precautions


At this time side airbags are neither required nor regulated.


Very close and direct contact with airbags poses the greatest dangers.


Never sit closer than 10" to an airbag.


Always use airbags in combination with seat belts and safe driving practices.


Slouching allows you to slide underneath the seat belt during an accident and increases the risk of airbag injury.


Never place items on or near an airbag module. Airbags inflate at over 100 mph, objects become missiles.


Children 12 and under are safest in the rear seats.



What to do if you have experienced airbag failure during a Southwest Missouri traffic accident.
First and foremost seek medical attention. Report the accident and keep all police and medical records. Second contact a Carthage or Jasper County MO car accident lawyer for help. Ask for a no cost, no obligation consultation.
Attorney meetings by appointment only