On Tuesday, Kia Motors America announced a recall that affects nearly 73,000 small cars from the 2006 - 2008 model years, according to the National Highway Traffic Safety Administration. The recall is connected to a potential issue with the passenger airbag, which could malfunction and inflate if a small child is occupying the front passenger seat.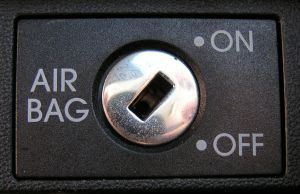 Safety devices like airbags are designed to provide motorists with an extra layer of protection in the event of a car crash. And they normally do: in fact, NHTSA statistics show that airbags are 81% effective in preventing serious head injury, and 66% effective in preventing injuries to the chest and torso.
However, air bags can also cause serious injury, especially in children. Although they have saved thousands of lives, they sometimes fail: airbags have also caused an approximately 200 deaths since 1990.
There are four main ways airbags can fail during car accidents which lead to injury, including death.
Examples of airbag failure in car accidents:
• Accidental Deployment: A defect in the car's deployment system or airbag installation causes the accidental deployment of the airbag, causing an accident an injury. For example, the airbag deploys when you run over the curb.
• Forceful Deployment: Airbag is deployed with too much force during a car accident and injury occurs. Young children should not sit in the front seat because they are not able to safely absorb normal airbag deployment force. While most vehicles are equipped with sensor mats that keep an airbag from deploying when a child is riding up front, the Kia recall demonstrates that those sensors can also fail.
• Late Deployment: A defect in the car's deployment system may cause the airbag to deploy too late to prevent injury. Airbags are designed to deploy within the first .05 seconds for frontal crashes and within .02 seconds for side crashes. They must deploy before injury occurs to be affective.
• Failed Deployment: A defect in the car's airbag deployment system may cause the airbag not to deploy when needed and injury results. The National Automotive Sampling System/Crashworthiness Data System estimates that airbags fail in 1-2% of fatal crashes.
Examples of common injuries caused by airbag failure:
• Fractured bones
• Concussions
• Brain trauma
• Blunt force trauma
• Facial injuries
• Eye injuries
• Back injuries
• Neck injuries
• Whiplash
• Disfigurement
• Herniated and bulging discs
• Spinal cord injuries
• Burn injuries
If you drive a vehicle affected by the Kia recall, call 1-800-333-4542: the automaker will repair the problem free of charge. For more information about the Kia airbag issue - and about all recent safety recalls - visit safercar.gov.
If you or a loved one has been injured in a car crash, our Missouri personal injury lawyers may be able to help. We represent accident victims in Joplin and throughout the surrounding areas, including Webb City, Carthage, Pierce City, Neosho and Nevada. We work on a contingent fee basis, and a free confidential, no obligation consultation. To schedule an appointment, call us toll free at (888) 287-1046: we are available 24/7/365 for your convenience. For more information, please visit our website.
Attorney meetings by appointment only