Motorists can make the biggest impact on bicyclist safety this spring by resolving to watch for riders -- and by giving them the riding room and respect they deserve. Both Missouri state law and local law provide that bicyclists are allowed to use the same roadways as motor vehicles. This law grants bicyclists the same rights and duties as other vehicle drivers. When a motorist violates those rights, a serious or fatal accident often occurs.
Our Jackson injury lawyers understand that road design is a big contributor to how automobiles and bicyclists cooperate with one another on our roads. A little bit of patience is required from both bicyclists and motorists in order to make travel safe for everyone.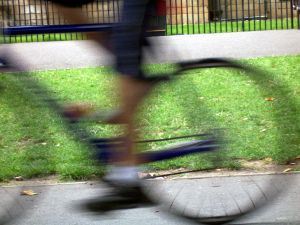 More than 600 bicyclists were killed, and an additional 51,000 riders were injured in motor vehicle accidents in 2009, according to the National Highway Traffic Safety Administration.
Motorists can make the biggest impact in reducing these numbers. It is important for motorists to use common sense and respect when traveling around riders. Crowd them or intimidate them and you may be in court for causing a fatal Missouri bicycle accident.
The American Safety Council offers these tips to help keep riders safe:
-Be predictable and visible to all motorists. Just as good drivers wouldn't weave all over the road, neither should you.
-Remember to ride with traffic, never against it. Traveling against traffic can be 20 times more dangerous than cycling with traffic flow.
-Check traffic before turning or merging, just as a motorists should.
-As you don't have a blinker on your bicycle, use arm signals to communicate your movements with other bicyclists and motorists.
-Be sure to turn on your lights at dusk. If you don't have lights, be sure to wear light colored clothing and make sure to have plenty of reflective gear on you and your bike.
-Yield to motorists. A bicyclist is always safer practicing defensive driving skills. Stop at intersections and stop before crossing roads.
The NHTSA urges drivers to follow these motorist safety tips in effort to help keep our bicyclists safe:
-Be courteous. All drivers should allow a three-foot clearance space between their vehicle and a bicyclist while attempting to pass.
-Look out for cyclist when pulling out of a parking spot or opening your car door.
-Drivers should remember to yield to cyclists at all intersections and abide by the instructions of posted signs and signals.
-Be extra careful when looking for bicyclists when making turns.
-It is important to view our bicyclists the same as our motorists. Practice defensive driving and remember, spotting a cyclists may take a second look, but it's worth the time.
If your or a loved one has been injured in a bicycling accident with a motor vehicle, contact the Southeast Missouri Personal Injury Lawyers at Aaron Sachs & Associates for a free initial consultation to discuss your rights. Call (573) 334-7959
Attorney meetings by appointment only