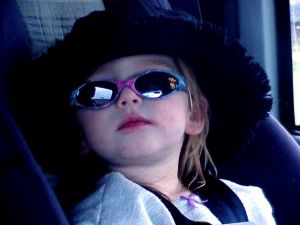 As Kansas City car accident lawyers, we know that young children are extremely susceptible to serious, life-threatening injuries when they are involved in crashes - especially when they aren't restrained using proper safety devices. That's why we join local and national organizations in supporting National Child Passenger Safety Week, which is designed to raise awareness about the importance of child safety restraint systems. In this post, we provide some useful resources and safety tips for Missouri parents and caregivers.
Facts about National Child Passenger Safety Week
• This year's National Child Passenger Safety Week, which occurs from September 15-21, is not only endorsed by local law enforcement agencies like the Missouri Highway Patrol, but also by national organizations like the Ad Council and the National Highway Traffic Safety Administration (NHTSA).
• According to the Patrol, 17 children younger than age eight died in 2012 crashes statewide, while an additional 1,743 suffered injuries. State troopers also issued citations to 2,362 Missouri drivers who failed to secure passengers under age eight in child safety seat appropriate for the child's age and size.
Car accidents involving children: The startling statistics
• Auto accidents are the number one cause of death in children between ages one and 19, reports Safe Kids Worldwide.
• When children between ages two and five are restrained using seat belts instead of appropriate child safety seats, they are four times more likely to suffer a serious crash-related head injury than children using car seats or booster seats.
• Nationwide, the average rate of "critical misuse for child restraints" is approximately 73%. Infant seats and rear-facing convertible safety seats are the mostly likely to be misused.
• Child safety seats have proven to reduce fatal injuries by up to 71% for infants and 54% for children between ages one and four - that is, when these safety seats are installed and used correctly.
Child passengers and Missouri law: What drivers need to know
• Under state law, children who are younger than age four or who weigh less than 40 pounds must be restrained in safety seats appropriate for their age and size.
• Children between ages four and eight who weigh between 40 and 80 pounds must be restrained using a booster seat or other restraint system appropriate for the child.
• Children between ages eight and 15 must be buckled up, no matter what kind of vehicle they are riding in or where in the vehicle they are riding (front seat or back seat).

For more information about Missouri's Child Restraint Law, RSMo 307.182, click here.
At Aaron Sachs & Associates, P.C., our Kansas City personal injury lawyers represent car accident victims and their loved ones. If you or a family member has suffered injury in a crash caused by a careless or negligent driver, it may be beneficial to seek legal advice from an experienced attorney. Our firm offers a free initial consultation to discuss your case, and we work on a contingent-fee basis, which means we don't charge you any fees up front. It won't cost you anything to see if we can help. To contact our office, call us toll-free at 1-855-695-1426, or click here to visit our website. Serving clients in Kansas City, Independence, Lee's Summit, Blue Springs, Greenwood and throughout Jackson County.
Attorney meetings by appointment only