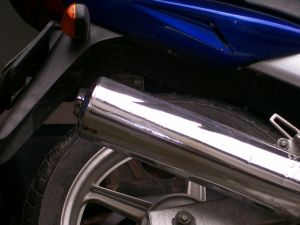 Motorcycle season is now in full swing, and our Kansas City personal injury lawyers want to remind area drivers to be on the lookout for motorcyclists on our area roads. When motorcycle accidents occur - especially when other passenger vehicles are involved - riders are considerably more vulnerable to life-threatening injuries than other motorists, simply because there's very little to protect them from the force of impact. In fact, the Insurance Institute for Highway Safety reports that per mile traveled in 2010, the number of motorcycle fatalities was about 30 times the number of deaths in cars.
This week, a Kentucky man was arrested after police say he caused a fatal motorcycle accident and then left the scene on foot. According to WAVE 3 News, 27 year-old Genaro Herrera Hernandez has been charged with murder, assault, wanton endangerment, criminal mischief, driving without a license, leaving the scene of an accident and driving under the influence. Police say Hernandez was behind the wheel of a northbound vehicle when it crossed the roadway center line and struck a motorcycle head-on.
The driver of the motorcycle, 62 year-old Philip Frey, died as a result of blunt force trauma caused by the crash. Frey's female passenger was also hospitalized with injuries but is expected to recover. After the collision, a witness reportedly saw a man walking away from the scene, and investigators later located Hernandez, who had injuries consistent with being involved in a car accident.
Missouri motorcycle accidents: The facts
• The National Highway Traffic Safety Administration (NHTSA) reported an increased number of motorcycle fatalities in 2011. Nationwide, 4,612 riders were killed, accounting for 14% of all auto accident fatalities for the year, and about 54% of those riders died in accidents involving other motor vehicles.
• Of all 2011 auto accidents in Missouri, 36% resulted in an injury or a fatality. In contrast, 80% of 2011 Missouri motorcycle accidents resulted in injury or death. Throughout the year, 82 motorcyclists were killed and an additional 2,166 were injured in traffic accidents.
• Head-on collisions with other passenger vehicles are among the most deadly of all motorcycle accidents. About 56% of all motorcycle fatalities occur when a motorcycle collides with a car or truck head-on.

During the months ahead, we encourage all motorists to drive responsibly and to be mindful of motorcycles on the road. Accidents that only result in minimal consequences for other drivers can be fatal for motorcyclists. Please, look twice for riders: you just might save someone's life.
Aaron Sachs & Associates, P.C. is a Missouri personal injury law firm serving auto accident victims in Kansas City and throughout the surrounding areas, including Belton, Harrisonville, Peculiar, Pleasant Hill, Raymore, Liberty, Excelsior Springs, Gladstone, Kearney, Pleasant Valley and Smithville. If you or a loved one has been injured in an accident caused by another driver's negligence, it may be beneficial to discuss your legal rights and options with an attorney. Contact our office today to find out if we can help: call us toll-free at 1-855-695-1426, our submit our easy-to-use "Do I Have a Case?" form.
Attorney meetings by appointment only