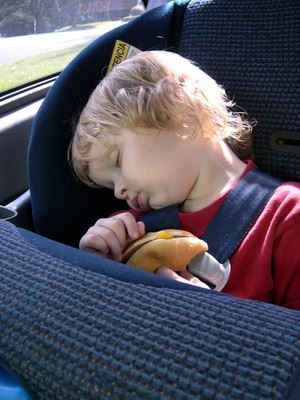 As Joplin car accident lawyers, we know that child passengers are a parent's most precious cargo. Sadly, the problem of hot car deaths (also known as vehicular heat stroke or hyperthermia) continues to plague families in Missouri and nationwide. On average, 38 American children die inside hot vehicles every year, and 20 have already died this summer, reports AccuWeather. "[Car] windows let in a lot of sunlight and when that sunlight is absorbed, it becomes trapped inside the car," says meteorologist Michael Pigott. "The temperature inside the car can become twice that of the temperature outside."
Recently, an Illinois man was charged with one count of involuntary manslaughter and two counts of endangering the welfare of a child after his 23 month-old son died of vehicular hyperthermia. Police say 32 year-old Wayne Hubert was drunk when he loaded his son Nathan into his car seat and then returned inside his home and passed out. Nathan was discovered in the vehicle when his mother arrived home from work about two hours later. The boy's body temperature was 104.7 degrees. Hubert's five year-old daughter was also found unattended inside the house.
Child Vehicular Heat Stroke: Facts and Statistics
• According to KidsandCars.org, the temperature inside a parked vehicle can spike to 125 degrees within a matter of minutes, even when the windows are cracked open. Since a child's body temperature can rise three to five times as fast as an adult's, leaving children unattended in a vehicle - even for just a moment - is extremely dangerous.
• Hundreds of children - ranging in age from five days to 14 years old - have died of vehicular hyperthermia since 1998. Sixteen of those deaths occurred in Missouri.
• About 31% of these victims are under one year old, which means they were likely riding in a rear-facing car seat in the back of a vehicle.
• Over half of U.S. hot car deaths involve children who were unknowingly left in a vehicle by a parent or caregiver. Around 30% climbed into a vehicle on their own, and nearly 12% were knowingly left in a vehicle.

Preventing Hot Car Deaths: Safety Tips for Parents and Caregivers
• Never leave a child unattended in a parked vehicle, even briefly.
• Take a moment to open the back door of your vehicle every single time you reach your destination - and make it a habit. Experts say many of hot car deaths involve conscientious, caring parents who are simply distracted by a change in routine, lack of sleep, or stress.
• If you see a child alone in a hot car, react immediately. Call 911 and get the child out of the vehicle as quickly as possible. Vehicular hyperthermia kills in a matter of minutes.
For more information about child vehicular heat stroke, including more prevention tips for parents, click here.
The personal injury lawyers at Aaron Sachs & Associates, P.C. represent the victims of Missouri auto accidents. We serve clients in Joplin, Carthage, Webb City, Sarcoxie, Carl Junction, and throughout Jasper County. If you or a loved one has been injured in an accident caused by another driver's negligence, please contact our office to find out if we can assist you. Call us toll-free at 1-888-777-AUTO, or submit our easy-to-use "Do I Have a Case?" form via our website. For your convenience, we are available 24/7/365.
Attorney meetings by appointment only