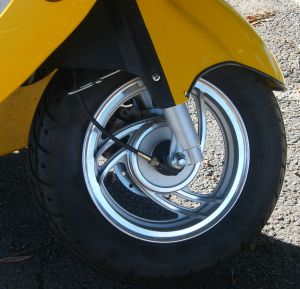 On Thursday, a Southeast Missouri State University student died as a result of injuries caused by a car-scooter collision on September 9. The Southeast Missourian reports that 21 year-old Meg Herndon suffered a severe brain injury when her scooter was struck by a Ford F-250 pickup truck at Sprigg Street and Normal Avenue in Cape Girardeau, on the edge of the SEMO campus. Herndon had been listed in critical condition at Barnes-Jewish Hospital in St. Louis since day of the crash.
According to the Cape Girardeau Police Department, the accident happened when the driver of the truck, 19 year-old Steven Minner, failed to yield as he turned left onto Normal Avenue. The truck collided with Herndon's scooter, which was southbound on Sprigg, about three-quarters of the way through the intersection at Normal at the point of impact. Herndon had the right of way. Minner has been cited for failure to yield and failure to wear a seat belt: he will be charged at the state level instead of in municipal court. He is scheduled to appear in court on October 15.
SEMO safety officials recently announced changes in parking accommodations for scooters and mopeds: there are 340 such vehicles registered on the SEMO campus. By moving the parking area to a larger, more centralized location, the university hopes to "improve traffic flow and help reduce interference with pedestrian and vehicle traffic in congested and highly used campus lots and walkways," reports KFVS. City government officials are also collaborating with Doug Richards, director of the University Police Department, to create a city ordinance requiring drivers of scooters to wear helmets.
Herndon was not wearing a helmet at the time of the crash, but there is no current law requiring her to do so. In fact, the Missourian says the majority of local scooter drivers in Cape Girardeau don't wear helmets.

Accidents involving powered scooters: A few startling statistics
• The U.S. Consumer Product Safety Commission (CPSC) says an estimated 10,000 emergency room injuries were reported in connection with powered scooters between July 2003 and June 2004.
• Less than half of those injury victims were wearing helmets, the CPSC reports.
• Federal data from the National Highway Traffic Safety Administration (NHTSA) indicates that moped and scooter fatalities increased from 48 in 2004 to 99 in 2009 - that's a 50% increase over a five year period.
Herndon was a Rockwood High School graduate, originally from Fenton. At the time of the accident, she was a senior at SEMO, where she was a nursing student and a decorated member of the varsity soccer team. Her family told the Missourian that her liver, kidneys, and rare B-negative blood are all being donated. Several organizations are collecting donations to help the Herndon family: click here to find out how you can help.
The auto accident lawyers at Aaron Sachs & Associates, P.C. represent injury victims in Joplin, Missouri and throughout the surrounding areas, including Carthage, Webb City, Sarcoxie, Carl Junction, Nevada, Neosho, Diamond, Noel and Pierce City. To schedule an appointment for a free initial consultation, please call our office toll-free at 1-888-777-AUTO. You can also visit our website to learn more about our firm, or to contact us online.
Attorney meetings by appointment only