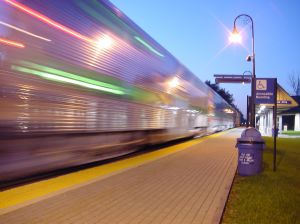 A 20 year-old Illinois man is facing charges in connection with a collision between a car and a Metra train on Saturday night. According to the Chicago Sun-Times, Pedro Bustamante has been cited for driving without a valid license, driving too fast for conditions, and operating an uninsured vehicle that caused bodily harm. Bustamante, his pregnant wife and their two young children were all injured in the collision.
The accident happened in Elgin, a Chicago suburb. Authorities say Bustamante was traveling south on Raymond Street when he approached a sharp curve in the road, where the street bends before reaching a railroad crossing. Instead of following the curve, Bustamante's Lincoln Continental ran off the road, hit a guardrail protecting the crossing's control box, and continued onto the tracks. It was then struck by the locomotive of an oncoming Metra train.
Bustamante's 14 month-old daughter was airlifted to Advocate Lutheran General Hospital with serious injuries, but her condition has since stabilized and she is expected to recover. The vehicle's other occupants - Bustamante; his wife, 19 year-old Brenda Ceja; and their 5 year-old son - were taken by ambulance to Provena Saint Joseph Hospital in Elgin. Bustamante and his son were treated and released, but Ceja, who is pregnant, remains hospitalized.
No one on board the train was injured. The train that struck the vehicle was delayed for about 90 minutes after the crash: it was damaged, but still operational. In contrast, Bustamante's Continental was completely destroyed. According to the Sun-Times, passengers on the train reported seeing "a dark blue 1997 Lincoln Continental with its entire engine-area torn off and the entire windshield spider-webbed with fracture marks; the car's engine, lying in the street about 20 feet away; and the car's transmission, lying in the street about 10 feet away from the engine."
Police suspect that weather conditions may have played a role in the crash, as it was dark and raining when the accident occurred. Alcohol is also believed to be a contributing factor, though Bustamante was not charged with driving while intoxicated. All of the charges against him are traffic-related misdemeanors.
The accident prompted two other minor incidents on Raymond Street. Immediately after the crash, another vehicle struck the wrecked Continental, but that driver was not injured and his vehicle only sustained minor damage. Then, after the family had been transported from the scene, a second vehicle collided with the wreckage, but no one in that vehicle was hurt.