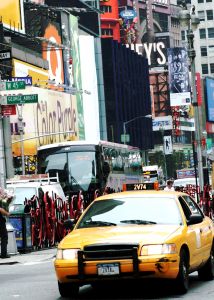 An 80 year-old Korean War veteran was killed after he was struck by a car on New York's Upper Eastside, and his wife reportedly survived because he pushed her out of harm's way. According to the New York Times, Rubin Baum and his wife Denise, 62, were trying to hail a cab at around 10:30 p.m. on Saturday, September 22. As they stood on the street corner at Park Avenue and 59th Street, a black Mazda struck a silver minivan that was northbound on Park Avenue. The impact sent the Mazda spinning onto the sidewalk, directly into the Baums' path.
"The car, it came so quickly I didn't know what hit us," Mrs. Baum told the Times. She says her husband gave her a hard shove, pushing her out of the way: she was flung into a parked First Quality Maintenance truck. Mrs. Baum suffered from extensive bruising and an injury to one leg. Rubin Baum, however, was pinned under the Mazda. The couple was transported to New York - Presbyterian Hospital Weill Center, where Rubin was pronounced dead on arrival.
Law enforcement officials don't believe any criminal activity contributed to the crash, but they are continuing to investigate. The Mazda was driven by a 20 year-old, and the minivan was driven by a 47 year-old man. The minivan was registered to the Pakistani Mission to the United States, and a Pakistani diplomat was a passenger in the van when the crash occurred.
Ironically, the Baums met on the streets of New York nearly 40 years ago as they were each trying to hail a cab. "I was trying to steal his taxi," Mrs. Baum recalled. Rubin Baum, known affectionately as Ruby, earned two purple hearts when he served as an Army medic during the Korean War. In the years that followed, he ran several companies in the garment industry. After he retired, he went to work in real estate with an old friend, Howard Hauptman.
"He touched everybody in a wonderful way," Hauptman said. "From the moment you met him, you got this real good feeling. Ruby was full of life, and he loved interactions with people, and for an 80-year-old guy he was remarkably vibrant."
The National Highway Traffic Safety Administration (NHTSA) reports that 4,092 pedestrians were killed and approximately 59,000 were injured in 2009 traffic accidents. "On average," the Administration says, "a pedestrian was killed every two hours and injured every nine minutes in traffic crashes." About 72% of 2009 pedestrian deaths occurred in urban areas as opposed to rural areas. Most of these deaths - about 70% - occurred during the nighttime hours.
At Aaron Sachs & Associates, P.C., our personal injury lawyers represent car accident victims in Kansas City, Missouri and throughout the surrounding areas, including Independence, Lee's Summit, Blue Springs, Greenwood, Liberty, Excelsior Springs, Gladstone and Kearney. If you've been injured in a car accident, we may be able to help. To schedule an appointment for a free initial consultation, please call us toll-free at 1-888-777-AUTO, or visit our website.
Attorney meetings by appointment only