On Monday, four teenagers were killed in a gruesome single-vehicle wreck in Long Island, reports the Wall Street Journal. It happened on Southern State Parkway at around 3:40 a.m., when 17 year-old Joseph Beer failed to negotiate a curve in the roadway. His 2012 Subaru Impreza crossed over two lanes of traffic, ran off the road, and struck a cluster of trees. The force of the crash ripped the vehicle in half.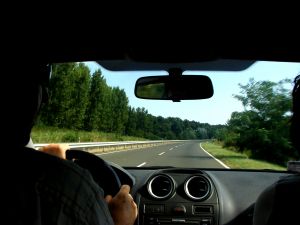 "I heard the initial impact, I had the window open. Literally, the minute they hit the tree, the house shook," a resident in the area told CBS New York. "We started hearing a bunch of popping sounds and we thought there were explosions or gun shots or something, but what it turned out was all the debris in the street, all the cars passing kept hitting it."
All five occupants of the Subaru were ejected. Four were pronounced dead at the scene, including 17 year-old Neal Rajapa, 18 year-old Christopher Kahn, 18 year-old Peter Kanhai and 18 year-old Darian Ramnarine. Beer, the only survivor, was taken to a Long Island hospital by ambulance. He has since been treated and released.
The crash was apparently one of three separate single-vehicle accidents that occurred in the same location on Monday. The stretch of road, known to locals as "dead man's curve," bends sharply and quickly, and some residents say it is not properly lit. It was also raining on Monday morning, so the road was likely slick. Shortly before 1:00 a.m., firefighters had to extricate a driver pinned in a vehicle; then, as emergency personnel responded to the accident involving the five teens, a third driver crashed in the area.
An official investigation of the accident is ongoing. Authorities say Beer has a New York learner's permit, which means he was only authorized to drive during certain hours under the supervision of an experienced driver over age 21. The permit also restricts the number of minor passengers a driver can legally carry.
No criminal charges have yet been filed against the teen. Speed was likely a contributing factor, reports CBS New York, but it is not yet known how fast the Subaru was traveling. And according to the Journal, investigators are currently awaiting toxicology test results on Beer. It can take several weeks to receive blood screen results, but investigators are trying to expedite the process: they hope to have the results within a few days.