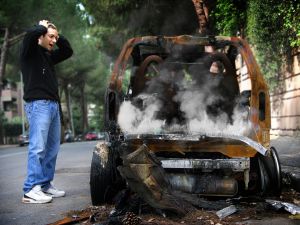 On average, there are approximately 6 million car crashes in the United States every year - in fact, an injury accident occurs about every 14 seconds. Despite the frequency of these crashes, a recent survey revealed that many Americans are unclear about the steps they should take following a collision. Unfortunately, that lack of knowledge can complicate the process of filing a claim and expose crash victims to an increased risk of identity theft, which is one of the fasting-growing crimes in the country.
A 2012 survey conducted by the National Association of Insurance Commissioners (NAIC) revealed that many motorists don't know what kind of information they're required to provide following a crash. Accordingly, a car accident can present identity thieves with an ideal opportunity. Kevin McCarty, NAIC president and Florida's insurance commissioner, says being prepared for this situation can save you from potential problems down the road. "Understanding what information to share, and with whom, will help keep you safe after an accident and decrease some of the challenges of filing a claim later on," McCarty said.
Among the NAIC survey's findings:
• 38% of drivers said they felt it was appropriate to share their driver's license numbers with the other parties involved. In addition, about one in six respondents said they would allow another driver to photograph the license. However, the NAIC says sharing this information can be extremely risky. A photograph of your license could be used to create a fake I.D. A criminal could also use your license number to impersonate you over the phone.
• 25% of drivers said they would share their home address. Identity thieves often search for personal financial information in their victim's mailboxes or trashcans, so sharing your physical address with a stranger can be dangerous. Also, your personal safety could be compromised.
• 29% of respondents said they believed they were required to share their home phone numbers. The NAIC says giving out your telephone number is "rarely necessary."
Under most circumstances, the NAIC says simply sharing your name and car insurance information is sufficient. To help streamline the process, the Association has also developed a new app to help drivers during the chaos and confusion that often follows a collision. WreckCheck, available for iPhone and Android smart phones, "walks users through a step-by-step process to create their own accident report. The app directs them to capture photos and helps document and share only what is necessary to file an insurance claim." For more information about WreckCheck, click here. If you don't use a smartphone, the NAIC provides a downloadable Auto Accident Checklist that can be printed and carried in your vehicle.

At Aaron Sachs & Associates, P.C., our personal injury lawyers represent the victims of Missouri auto accidents. We serve clients in Kansas City, Missouri and throughout the surrounding areas, including Liberty, Independence, Lee's Summit, Blue Springs, Greenwood, Belton, Harrisonville, Peculiar and Raymore. If you'd like to schedule an appointment for a free initial consultation, please call our office toll-free at 1-888-777-AUTO, or visit our website.
Attorney meetings by appointment only