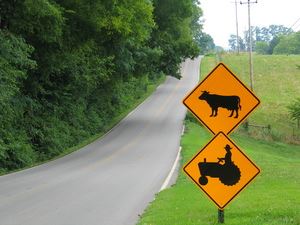 Planting season is here, and Missouri drivers would do well to be extra cautious while traveling near farm machinery on our state's roadways. Our Missouri truck accident attorneys understand that farm vehicles and equipment sometimes need to share the road with passenger vehicles. Motorists must be able to understand how these pieces of machinery work and how to properly navigate around them in order to keep our roadways accident and injury free.
Early Sunday morning, a North Carolina man was killed when a car rear-ended his tractor. According to local law enforcement, the tractor's headlights were functional, but it did not have proper rear lights or reflectors, which are required by North Carolina law. As a result of the impact, 47 year-old Michael DiCiccio was ejected from the tractor and pronounced dead at the scene. DiCiccio's passenger was also thrown from the vehicle: he suffered a broken leg and was taken to a local hospital by private vehicle. Meanwhile, the driver of the car suffered minor injuries. He was taken by ambulance, treated and released. His car was totaled.
The dangers created by the close proximity of passenger vehicles and farm equipment are a concern for safety advocates throughout the country. In Missouri, farming vehicles can legally be on the roadway at any time, provided they use reflectors to draw attention to slow moving machinery. It's essential for other drivers to make safe choices around these vehicles, according to Sergeant Brent Bernhardt of the Missouri Highway Patrol. "Farmers have to transport these big pieces of machinery to get their jobs done, and it takes both the people in the agricultural business as well as us motorists to make sure that we're safe," Sgt. Bernhardt told KTVO.
To address this issue, it seems clear that all drivers - regardless of what they're driving - must make safety a priority. A 2011 USDA report supports this assessment: "Effective solutions to the hazards and risks associated with moving agricultural equipment on public roads are not easily devised or implemented, but until all stakeholder groups become engaged in the effort, little progress can be expected," the report says.
Ohio State University's Agricultural and Natural Resources department offers these tips for motorists when driving near farm equipment:
• Be sure to practice extra caution when passing farm machinery. Never pass on a hill, a crest or a curve. Also, make sure no traffic is coming from the opposite direction: many accidents happen when passenger vehicles attempt to pass farm vehicles. Be patient, and wait until it's safe to pass.
• Remember that these vehicles don't typically travel any faster than 25 mph. Motorists should slow down as soon as they see farm equipment on the roadway - and should always be prepared to stop.
• Remember that farm vehicles are typically longer and wider than other vehicles.
• Keep an eye out for the SMV (slow moving vehicle) sign and reflective tape on most slow moving agricultural equipment.
Farmers are also encouraged to do their part: for example, when moving large machinery, the Patrol recommends traveling with an escort to alert other drivers. In addition, "we encourage the farmers to drive as far to the right as possible," Sgt. Bernhardt said, since farm equipment tends to take up a great deal of room on the road.
At Aaron Sachs & Associates, P.C., our truck accident lawyers represent injury victims in Springfield, Joplin, Cape Girardeau, Columbia, Kansas City, and throughout Missouri. To schedule a free initial consultation, please call 1-888-777-AUTO, or visit our website.
Attorney meetings by appointment only