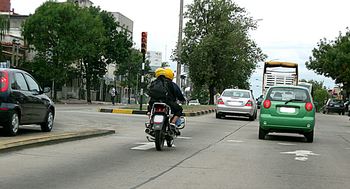 With the price of fuel still so high, many people are seeking out more economical forms of transportation: more and more Missourians are relying on motorcycles as a regular mode of travel, especially since the weather has been so unseasonably warm this year. Our Cape Girardeau motorcycle accident lawyers want to discuss some of the common causes of motorcycle accidents in southeast Missouri.
Common Causes of Motorcycle Accidents:
• Failure to yield or encroaching on a motorcyclist's right of way
• Lack of riding skills
• Failure to notice a motorcycle
• Failure to appreciate the blind spots for other cars, trucks, buses, and large trucks
• Failure to follow speed limits and other traffic laws
• Lack of stability provided by two-wheel configuration
• Failure to appreciate the abilities of a motorcycle such as size, speed, acceleration abilities and stopping distances
It's crucial that all drivers are mindful of the differences between a motorcycle and other motor vehicles, as they create additional risks for a motorcyclists. The simple difference in size makes a motorcycle easy to miss. To avoid the common causes of motorcycle accidents, riders should take extra precautions: above all, never assume a car "sees" you or is aware of your location.
Tips to Help Prevent Missouri Motorcycle Accidents
• Attend a motorcycle rider training course
• Practice awareness and good defensive driving techniques
• Anticipate what might happen if. . .
• Always check rearview mirrors before changing lanes or stopping
• Ride more cautiously in heavy traffic or inclement weather
• Never operate a motorcycle without the proper motorcycle operator's license
• Drive within your skill set and experience abilities
• Read through your owner's manual to stay familiar with your bike's capabilities
• Wear the right protective clothing to minimize injury if the worst does happen
The safest driving comes from education and practice. Even if you have taken a motorcycle rider training course in the past, consider attending another one as a refresher. If you have been riding for a while, you will have a different outlook and perspective, and you just might pick up some valuable safety tips.
Safe Driving Practices for Cape Girardeau Motorcyclists
• Avoid tailgating
• Avoid riding between lanes of slow moving or stopped traffic
• Know and obey all traffic laws including any special ordinances in your community
• Use signals for turns and lanes changes
• Avoid weaving in and out of traffic
• Do not ride on the shoulders of a roadway
• Be especially alert at intersections
• Look ahead for hazards so you can avoid them safely
• Travel the same speed as surrounding traffic
The safest bet for motorcyclists is to ride aware. Anticipate problems so you are more prepared to react. Know your limitations and ride within them. Know the capabilities and limitations of your motorcycle and respect them. Be especially cautious in areas where there might be road hazards, such as loose gravel, wet or slippery pavement, heavy traffic and busy intersections. Remember that other drivers sometimes forget about motorcycles: stay out of their blind spots, and try to travel at the same speed without weaving in and out of lanes. It's too easy for a motorist to "lose track" of a motorcyclist in traffic, or to just plain never see a motorcycle to begin with
The auto accident attorneys represent injury victims in Cape Girardeau throughout southeastern Missouri. To schedule a free initial consultation, call our office at 1-888-777-AUTO, or visit our website.
Attorney meetings by appointment only