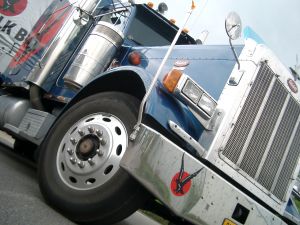 Truck accidents can be caused by various factors, but insecure cargo or improperly loaded supplies can be especially dangerous. Sadly, all too often, people are injured or killed in cargo related accidents.
Early Monday morning, the mayor of Summersville, MO was killed in a single-vehicle accident involving a log truck. 40 year-old Leroy Wells died when the Peterbilt log truck he was driving crossed the center line, ran off the road, and overturned. According to the Missouri Highway Patrol, Wells was pronounced dead at the scene of the accident. He was not wearing a seat belt.
A truck's cargo can make it handle differently, and shifting loads and cargo spills can pose a threat to all drivers. Last fall, a Lake Saint Louis man was killed when logging equipment fell into the path of his SUV. The widow of 40 year-old Kyle David has since filed a personal injury lawsuit against the truck driver: the accident investigation revealed that the trucker collided with a guardrail on Champ Clark Bridge, which caused the equipment to break loose from his logging truck.
Hazards like these have led the Federal Motor Carrier Safety Administration (FMCSA) to enforce more strict regulations within the last 10 years. In September 2002, FMSCA created revised regulations designed to help train drivers to properly secure cargo, in an attempt to reduce the number of accidents caused by cargo overturning or spilling. Industry experts from the United States, Canada, and Mexico all worked to improve cargo security, creating a new and improved safety training kit. However, the agency says the kit can be modified and approached many different ways and still meet FMCSA's requirements. The agency changes and adapts its regulation policies frequently in order to keep regulations up to date with the most current studies and necessary safe guards.
Then, in 2010, FMCSA relaxed its regulations requiring all truckers to carry liability insurance on their cargo load, reported the Insurance Journal. The agency stated, "Commercial shippers should be able to protect their own property loss and damage interest in the marketplace without continued FMCSA intervention." Because truck drivers carry insurance beyond mandatory limits, FMCSA allows the private market protect their shipments.
However, FMSCA is given discretion to mandate trucking companies by federal law, which allows them to shut down companies because of safety violations. In fact, the Administration recently ordered the Judson Mobley Logging Inc. (based out of Georgia) to halt all operations. FMSCA had previously inspected the company and found multiple violations, including drug and alcohol testing violations; driver qualification violations; and violations of vehicle maintenance regulations. Then, in May, investigators found the company had continued to operate (with the same violations) following the inspection. As a result, the company was immediately shut down because of the safety hazards their trucks posed to other drivers on the road.

"Safety is our number-one priority," said U.S. Transportation Secretary Ray LaHood. "We will not allow commercial truck companies that recklessly disregard safety to continue operating on the nation's roadways."
Since heavy truck loads can shift unpredictably and cause a serious wreck, drivers of passenger vehicles should be proactive. Don't tailgate, and stay out of large trucks' blind spots. Avoid pulling out in front of trucks with large loads and steer clear of trucks in inclement weather. Trucking accidents can be tragic, but many can be prevented with driver awareness.



The truck accident attorneys at Aaron Sachs & Associates, P.C. represent accident victims throughout Missouri: we have offices in Springfield, Joplin, Columbia, Cape Girardeau and Kansas City. To schedule an appointment for an initial consultation, please call 1-888-777-AUTO, or visit our website.



Attorney meetings by appointment only