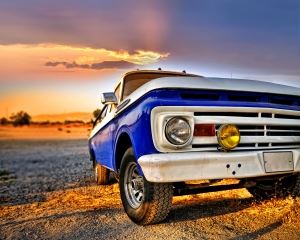 Summer is in full swing, and hot weather is here. With temperatures soaring, we want to remind drivers about the importance of vehicle maintenance. Often, drivers will take great care to keep their vehicles serviced during the winter months, but neglect maintenance during the summer. However, vehicle maintenance is vital when temperatures spike, especially here in Missouri, where the temperature is expected to hover above one hundred degrees in the days and weeks ahead.
On Monday, a mechanical issue caused a vehicle to catch fire near Pittsburg, reports KOAM 7. According to the Kansas Highway Patrol, the incident caused traffic on Highway 69 to be detoured, but no one was injured. Typically, mechanical issues usually don't cause such extreme circumstances, but vehicles that are not properly maintained can certainly pose hazards - like fires. According to the U.S. Department of Transportation, overheating is the number one reason for summer breakdowns, closely followed by battery failure.
To promote roadway safety - especially when it's hot outside - the AAA highlights a few areas of vehicle maintenance. Since heat and vibration can be strenuous on a vehicle's battery life, battery fluid, and other components of battery life must be maintained and checked regularly. Warm temperatures can cause battery fluid to evaporate more quickly, which means it must be monitored - and replaced - more frequently during the summer.
Engines also require special attention in the summertime. In extreme heat, engines have to work extra hard to keep from overheating. To keep the engine properly maintained, be sure to keep the coolant system healthy. Flushing and refilling the coolant system will help protect the radiator and internal engine from wear and tear. Proper maintenance of the engine helps the car run properly and prevents other issues from occurring.
Lastly, it is important to have tires, hoses, and belts inspected for soft spots, cracking, and other signs of poor condition. The heat can cause the roadways to become dangerously hot, which can burn and melt tires, hoses, and belts. Therefore, drivers should check tires' air pressure regularly and monitor equipment that could melt on hot asphalt. Regular self-inspection can help prevent breakdowns and other delays during the summer months.
The extreme heat associated with the summer months can put extra stress on vehicles, which can cause permanent damage. Since summer is also associated with road trips and other vacation plans, remember to protect your vehicle accordingly. Also, the AAA recommends carrying a well-stocked emergency kit just in case you break down. The safety kit should contain non-perishable foods, water, jumper cables, flashlights (with extra batteries), road flares, and a few basic tools.
Stay safe on the road this summer by taking a few precautions: check out the National Highway Traffic Safety Administration's vehicle safety checklist, aptly titled "Before You Go." After all, many vehicle problems related to heat can be avoided with proper maintenance and owner awareness.

The Missouri personal injury lawyers at Aaron Sachs & Associates, P.C. represent accident victims in Joplin and the surrounding areas, including Webb City, Carthage, Sarcoxie, Neosho, and Nevada. To schedule an appointment for a free initial consultation, please call us at 1-888-777-AUTO.
Attorney meetings by appointment only