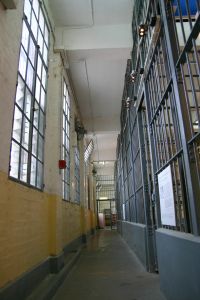 A House Springs woman will spend her holidays behind bars until 2014 for causing a car wreck that killed a pregnant woman on Christmas Eve, only days before she was scheduled to deliver twin girls.
According to the St. Louis Post-Dispatch, a judge sentenced 40 year-old Sharon Foster - who has adult twin daughters of her own - to four months of "shock time" in jail, along with five years of probation. Foster will spend the next 30 days in jail, and she will also serve three to five day periods during major holidays for the next two and a half years. Foster will be required to report to jail on New Year's Day, Martin Luther King Jr. Day, Presidents' Day, Easter, Mother's Day, Independence Day, Labor Day, Columbus Day, Veterans Day, Thanksgiving and Christmas. If she fails to do so, she faces a four-year prison term.
The Missouri Highway Patrol says Foster was traveling at a high rate of speed as she attempted to pass two vehicles on Christmas Eve 2008. She struck an SUV head on. The occupants of that vehicle, 24 year-old James Farrar and his 24 year-old wife Kimberly, were heading to a family dinner. Kimberly was 35 weeks pregnant. She was airlifted to St. Louis, but she and her daughters were pronounced dead about 90 minutes after the crash. James was also seriously injured: he spent two weeks in a medically induced coma. When he woke up, his family had to tell him that his wife and children had died.
The Patrol found no evidence to suggest that alcohol, drugs or distraction played a role in the accident: Foster was simply in a hurry and chose to pass dangerously. The judge's sentence was designed to "send a message about safe driving around holiday time and show Foster how it feels to miss holidays with her relatives," reports the Post-Dispatch.
James Farrar, now 28, says he wishes the term was longer, but believes the judge is making an important statement through Foster's sentencing. "I hope she gets the feeling when she's in there on Mother's Day and Christmases away from her family, her daughters," he said. "But it's not just the holidays for us. It's every day. She didn't just take my wife and children. She took someone else's child."