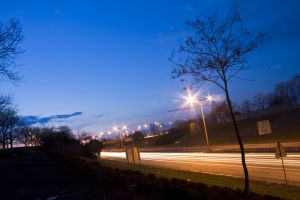 The Missouri Department of Transportation (MoDOT) works to keep Missouri drivers safe by maintaining and improving our state's roadways. Routes that are associated with multiple traffic fatalities are examined regularly, as MoDOT investigators attempt to determine what factors cause car accidents. When multiple accidents happen on the same stretch of road, those crashes tend to be the result of specific factors, like a sharp turn or a speed limit that is too high for conditions. Sometimes, an area experiences more accidents simply because drivers are often inattentive while on certain paths. However, MoDOT officials work to investigate and resolve any issues within their control that might contribute to crash injuries and deaths.
Recently, statistics have shown a large number of accidents around the Highway 61 - Highway P interchange near Wentzville. Local law enforcement and emergency response agencies have reported an unusual amount of crashes in and around this area - and these crashes led to an investigation of the intersection and the highway. As a result, MoDOT and local officials have created a "travel safe zone" in the area, reports the St. Louis Post-Dispatch.
According to MoDOT, a travel safe zone is "any area upon or around any highway where a highway safety analysis shows the number of fatal or disabling injury crashes exceeds a 'predicted safety performance level for comparable roadways', as stated in Missouri Revised Statute 304.590. MoDOT uses TSZs to improve safety of a clearly defined roadway segment. This statute establishes that fines shall be doubled for moving violations."
The newly established travel safe zone does not change the current speed limit, nor does it alter the features of the roadway. However, police enforcement in the area will be increased, and fines for anyone caught speeding will be doubled. In addition, drivers caught violating traffic laws on this section of highway may also face harsher punishments. Many local residents support the creation of the travel safe zone, hoping that the increased presence of law enforcement (and harsher consequences for breaking the law) will help reduce the unusually high number of traffic fatalities in the area.

If accidents on Highway 61 decrease within the next year, the travel safe zone will be extended, and no further investigations of the roadway's features will be necessary. Also, MoDOT has begun posting yellow signs that read "Travel Safe Zone, Fines Doubled" to remind motorists of the consequences of speeding.
In the fast, MoDOT authorities have reported that travel safe zones have proven effective in improving roadway safety, particularly in the St. Louis area. A seven-mile section of roadway on Interstate 70 to Cypress Road is one such zone, and another section of Highway 94 has been a travel safe zone for a while. Officials are now considering the creation of another zone on Highway 94, which is coming up for discussion in October.
Dangerous areas usually grab the attention of MoDOT's officials, especially when there are unusually high amounts of traffic fatalities in certain areas compared to the rest of the state. However, local residents can bring attention to roadways and other dangers by circulating petitions, or by reaching out to MoDOT officials. Although it is not financially possible for MoDOT to change or improve every potential danger, there are plenty of other ways to help make Missouri roads safer. To learn more, Attorney meetings by appointment only