One of the most common causes of motorcycle accidents is other vehicles failing to notice them, particularly when the other vehicles are making a turn. Motorcyclists are also much more difficult for a car driver to spot in dense traffic. Joplin Missouri motorcycle accident lawyers know that drivers' attitudes towards bikers are also a factor in accidents. Many drivers simply do not understand that motorcyclists have the same rights on the roads as they do.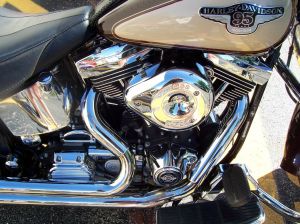 We wonder if any of these reasons was the cause of a motorcycle accident south of Joplin MO that sent two riders to the hospital on September 10th, when a pickup truck turned into their path.
According to the Missouri State Highway Patrol Carl Hayes, 63, of Sulphur Springs, Ark., was heading south on Missouri 43, two miles south of Joplin on his 2008 Harley. Wilma Hayes, 67, was on the bike behind him. Lewis Cheek, 51, of Joplin, was heading eastbound, but failed to yield at an intersection and pulled directly into the path of the bike.
As is so often the case when motorcycles are in collisions with either cars or trucks, the bike was totaled, but damage to Lewis's 1995 Chevy pickup was minimal. Both Carl and Wilma Hayes were taken by ambulance to Joplin's Freeman West Hospital, Carl with minor injuries and Wilma with moderate injuries. Fortunately, both motorcycle riders were wearing their safety helmets.
What can be done to protect motorcycle riders from accidents, other than wearing the appropriate recommended safety gear?
• Motorcyclists are advised to take refresher courses to continue to enhance their driving skills.
• Over reliance on using the rear brake instead of swerving contributes to motorcycle accidents, regardless of who was at fault.
• Anyone who wants to get on Missouri's highways on a bike should continue to learn how to practice defensive driving.
• Bikers should always obey all the same laws as other drivers, particularly the speed limits.
If you are involved in a Joplin Missouri motorcycle accident that was caused by the negligence of another driver, you may be able to seek compensation for your injuries. Whether or not you need legal assistance will depend on the severity of the crash, and your injuries. However, you have nothing to lose by having a motorcycle accident lawyer take a look at your case.
Our advice to anyone who has been injured in a motorcycle accident is not to sign any papers, give any recorded statements, or accept any initial settlements without finding out what your claim is worth. It might not be possible to immediately gauge the extent of your injuries, particularly if head trauma, spine or brain injury is involved. If an insurance company offers you a settlement before you understand the severity of your condition, you may be limiting or losing any chance to claim further damages by accepting it.
When in doubt, always consult an attorney. Did you know that Joplin motorcycle accident lawyers offer a free initial consultation to assess your claim? The peace of mind you might receive by finding out your legal options could be a huge help in the aftermath of a serious accident.
If you have been injured in a Joplin motorcycle accident, call the law offices of Aaron Sachs & Associates, P.C. today, toll free. There is never any pressure or obligation--instead, we will give you the straight answers you need.